Here are the top best Things to do in montreal voted by readers and compiled and edited by our team, let's find out
Montreal, Quebec is a vibrant cultural melting pot that attracts tourists from all around the world with its famous festivals, food, and nightlife. Even in the dead of winter, there's no shortage of fun things to do in Montreal.
You'll see Montrealers outside, dancing the cold away, at electronic music festivals, or gathering together at the sugar shack to indulge in sweets locally made from maple syrup. And have you ever tried poutine? It's fries made with melted cheese curds and gravy. You'll love it, we promise.
Whether you're coming in for a day on the rides at La Ronde, a weekend at a festival, or a semester spent studying at McGill University, you'll fall in love with Montreal and its endless activities.
1 – See the city from the leaning Montreal Tower Observatory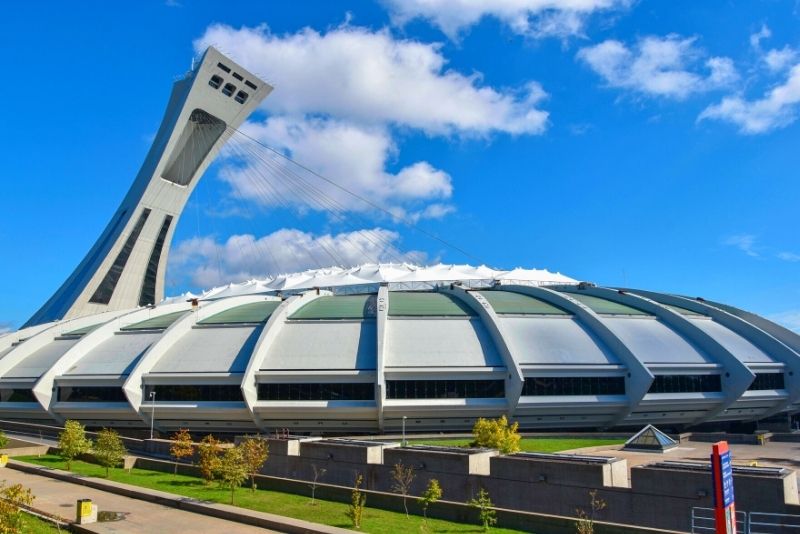 One of Montreal's most iconic sites is the Olympic Tower, otherwise known as Montreal Tower, the observatory that looms large over the city's Olympic Stadium.
It is one of the city's tallest structures, and it's on an incline that bests France's famous Leaning Tower of Pisa.
The structure is largely populated by offices, but the observatory is still open to the public, and there are plenty of other fun things to do and see in Montreal's Olympic Park.
Montreal Tower Observatory tickets
2 – Go back in time in Old Montreal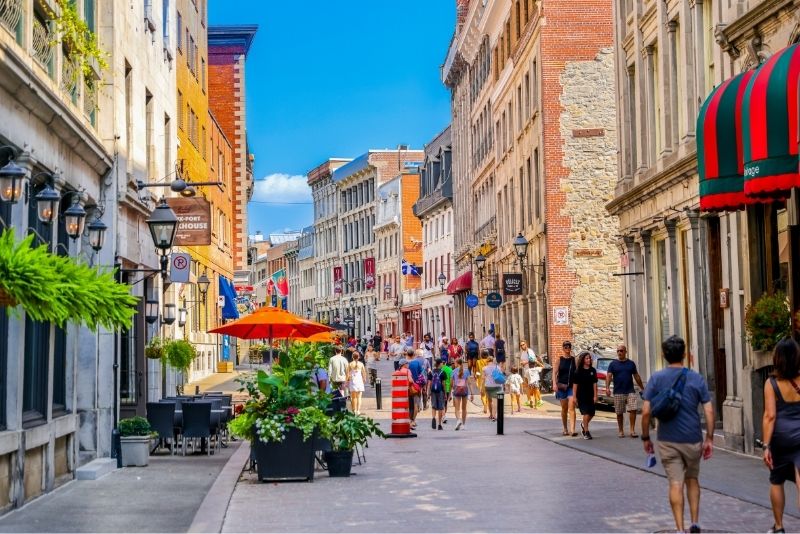 The gorgeous cobblestone streets in Old Montreal sit between a huge collection of old churches, fancy bars and restaurants, museums, and gift shops. And it's right next to the famous old port.
It would be impossible to see everything there is to see in just one visit. Luckily, there are multiple walking tours available that will take you past iconic sites like the Notre Dame Basilica, and for those traveling on a budget, the free walking tours are a great option.
walking tours in Montreal
3 – Learn about the darker side of Montreal on a Haunted Griffintown tour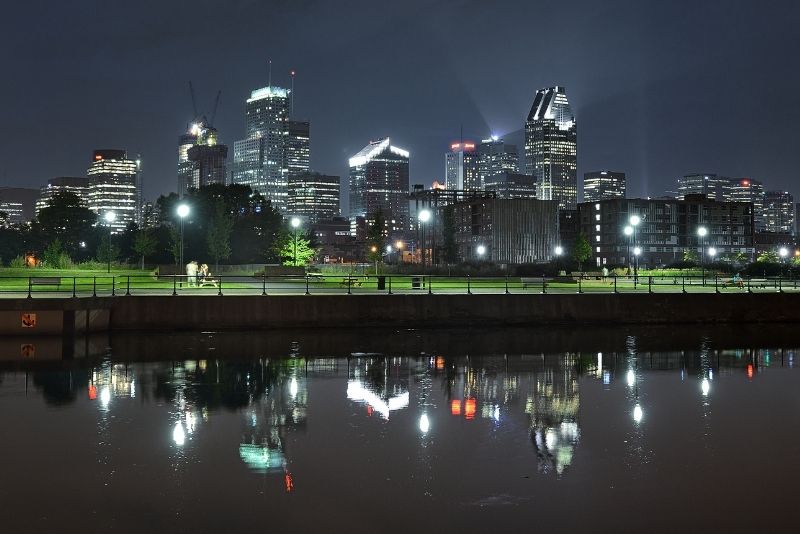 Griffintown is currently an up and coming Montreal area full of trendy bars and restaurants, but its history is checkered with tragedy, disaster…and juicy ghost stories.
Find out the secrets behind wild conspiracy theories, the urban legend behind a well-known headless call girl, and the horror of Black '47, all from an enthusiastic expert guide.
If you have a love of history with a twinge of the macabre, the darker side of Montreal awaits you.
4 – Go on a city tour with live commentary from a local expert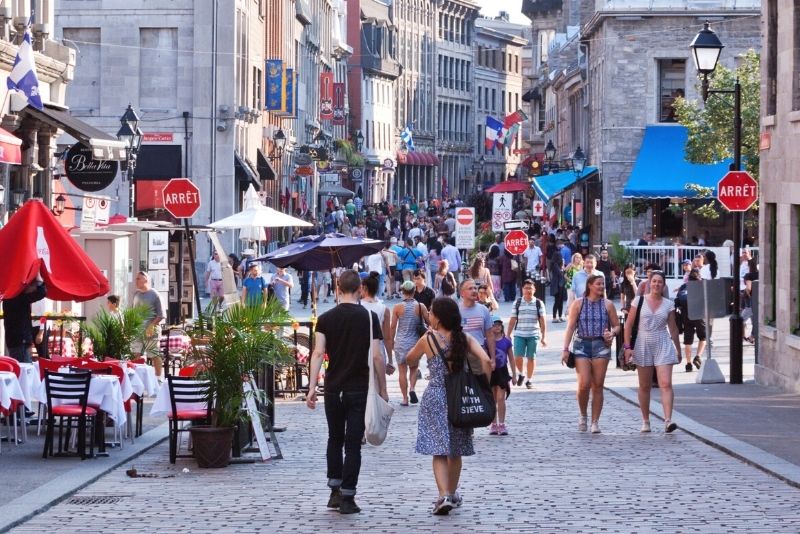 St Joseph's Oratory, The Old Port, Chinatown, these are just a few of the hundreds of things to see in Montreal. Trying to figure out what to see first can be daunting.
Luckily, the city offers a number of guided tours with live commentary. Whether it be by bus, on foot, or on the back of a scooter, there are plenty of ways to have experienced local experts guide you through the city's most important attractions.
5 – Get to key spots quickly on a bus tour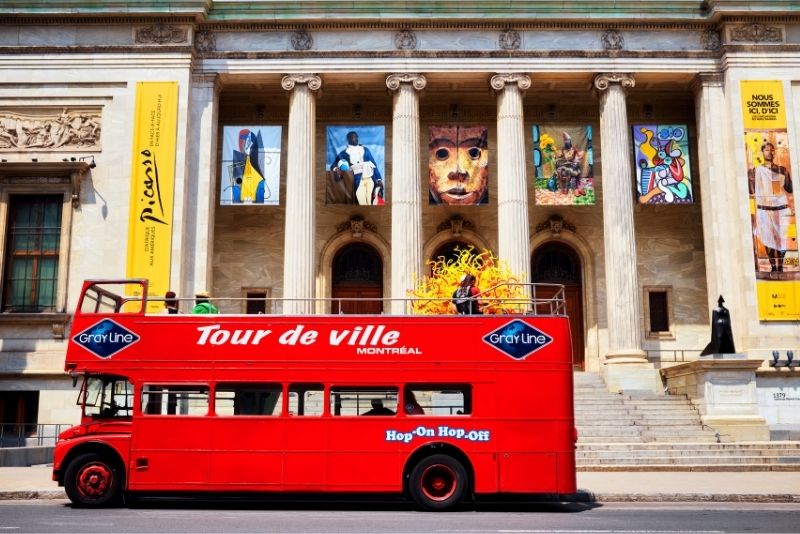 Hop-on hop-off bus tours are a popular way to leisurely check out big cities without having to adhere to a strict schedule, and Montreal offers them along with other types of bus tours in spades.
This is a great way to see all of downtown Montreal without having to walk from one end to the other or use public transportation, while still having the time to pick and choose your stops, like the trendy galleries inside the city's famous Belgo Building on St Catherine Street.
6 – Cruise the backstreets of Montreal's neighborhoods on a scooter tour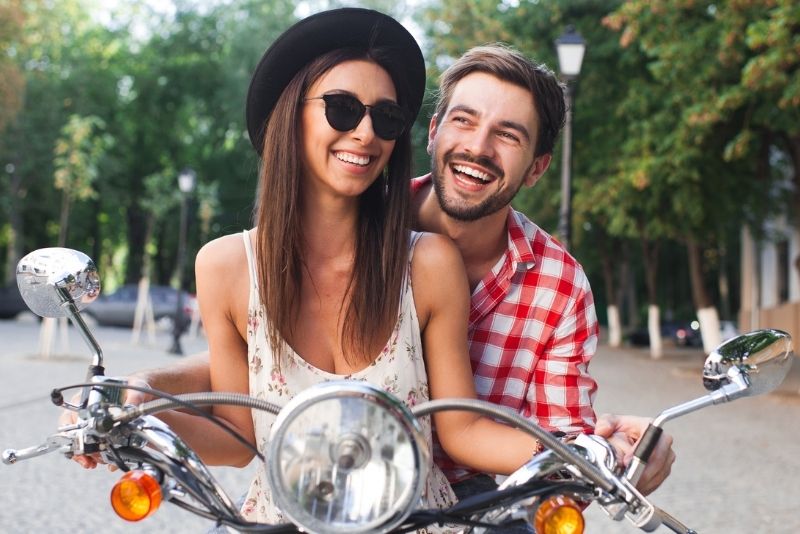 A scooter tour is a quick, environmentally friendly way to cruise through the backstreets of Montreal and see the neighborhood corners that some other tours won't show you.
Ride around the Plateau, through Old Montreal, and stop by Jean Talon Market to peruse the local vendors' merchandise.
Since Montreal never sleeps, these tours are offered during daytime ours and also well into the evening!
scooter tours in Montreal
7 – Go paddle boating on Beaver Lake in Mount Royal Park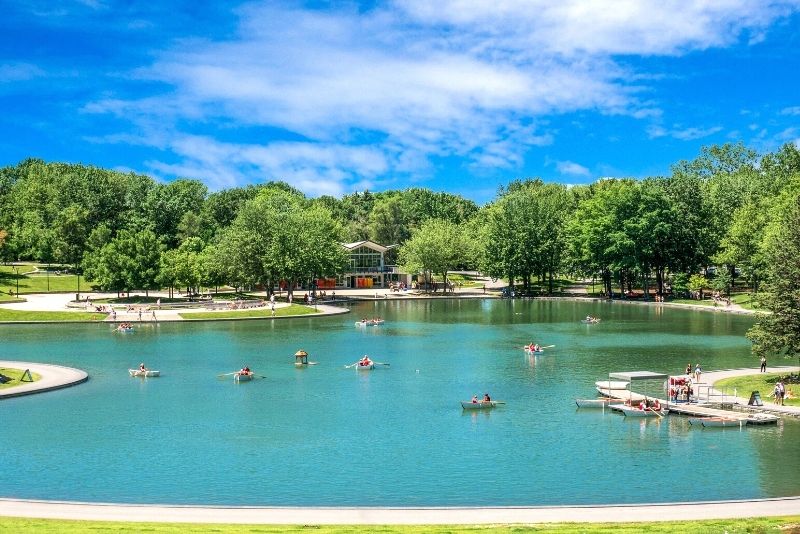 Mount Royal Park, fittingly located on the mountain from which Montreal gets its name, is so big it has a lake in it. Beaver lake is not only a perfect place for a picnic, but also offers paddle boating in the summer and ice skating in the winter.
Besides the lake, the park is filled with hiking trails, historical monuments, and gorgeous lookout points.
8 – Play some volleyball at Parc Jeanne Mance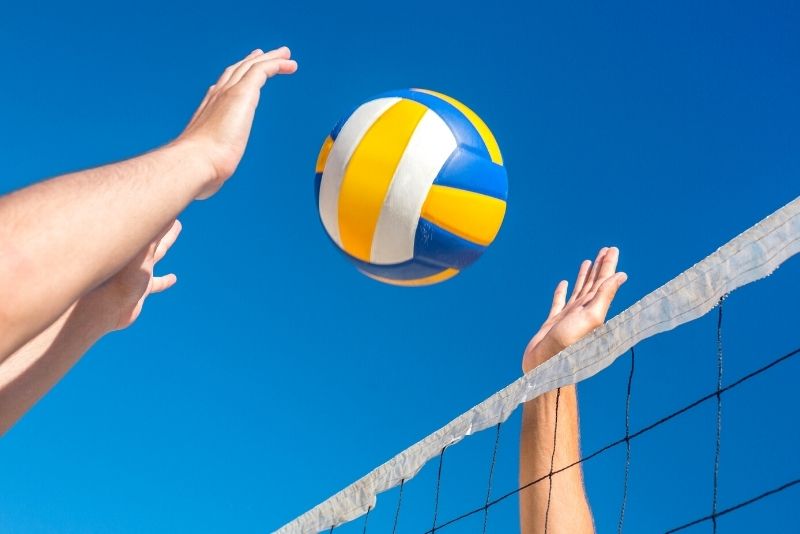 Across the street from Mount Royal is Jeanne Mance Park. Although it's dwarfed by the mountain, it is by no means a small park.
It's got a huge tennis court, a pool, a full sized playground, a baseball diamond, and plenty of room for sitting on a picnic blanket on the grass. It's also got a full volleyball court, sand included!
9 – Light a candle at Saint Joseph's Oratory of Mount Royal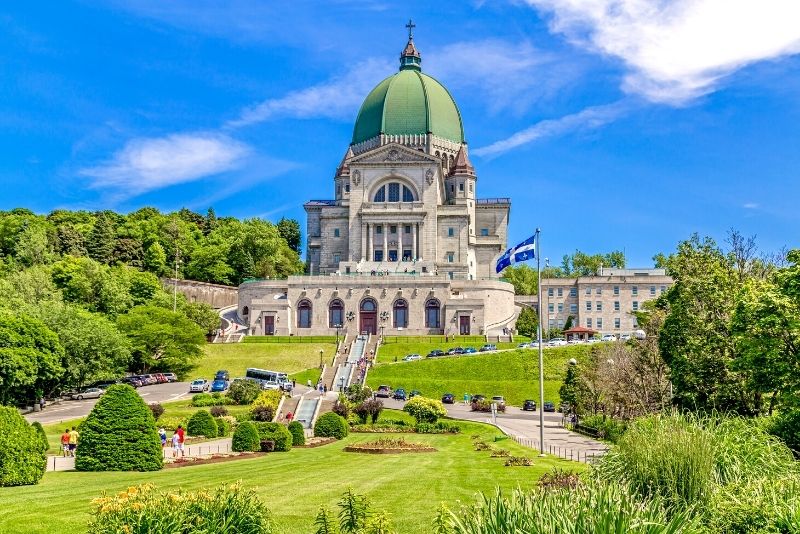 The largest domed cathedral in North America, Saint Joseph's Oratory of Mount Royal is a massive shrine built over a hundred years ago and dedicated to the memory of Saint Joseph.
Within its Votive Chapel is an awe-inspiring display of lit candles in front of an effigy of St Joseph. Visitors are welcome to light a candle in solidarity and prayer for someone they love. The top of the oratory is also a great place to see the city.
10 – Discover the city's mysteries with a scavenger hunt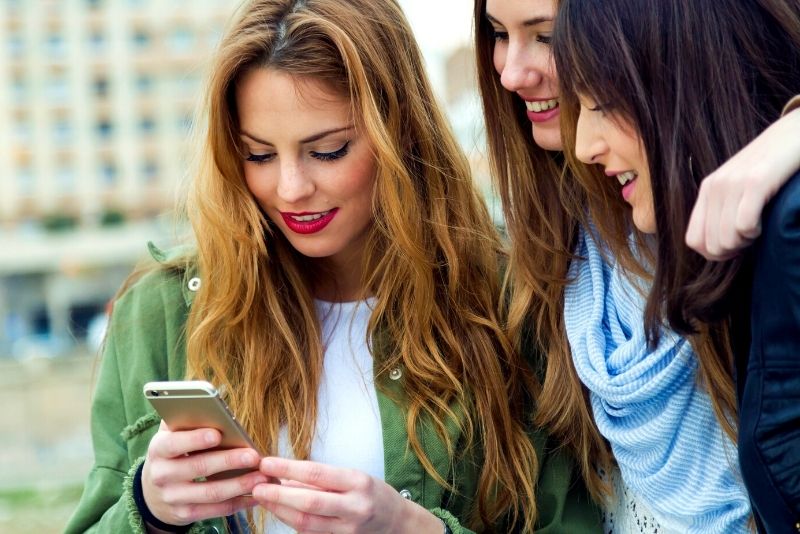 The narrow streets and preserved architecture of Old Montreal create the perfect atmosphere for an adventure-filled scavenger hunt.
Solve puzzles and find clues as you work your way through key locations like Ramesay Castle, Pointe-à-Callière Museum, and City hall.
Scavenger hunts are a great way to see Old Montreal whether you're with a group of friends or traveling with family.
scavenger games in Montreal
11 – See one of the most beautiful churches in the world, the Notre-Dame Basilica of Montreal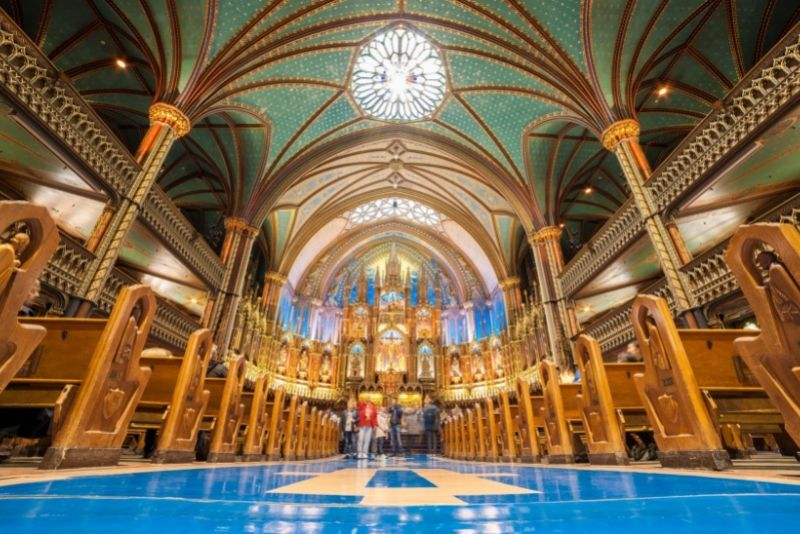 The Notre-Dame Basilica is Montreal's oldest church and one of the most beautiful churches in the entire world, and a must-see during any visit to the city.
Located right on the edge of Old Montreal, the vast gold and yellow halls of the church host incredible services and events year round. Choirs from all over the world come here to put on performances backed by the gorgeous sound of the organ.
12 – Cruise around St Lawrence river on a boat tour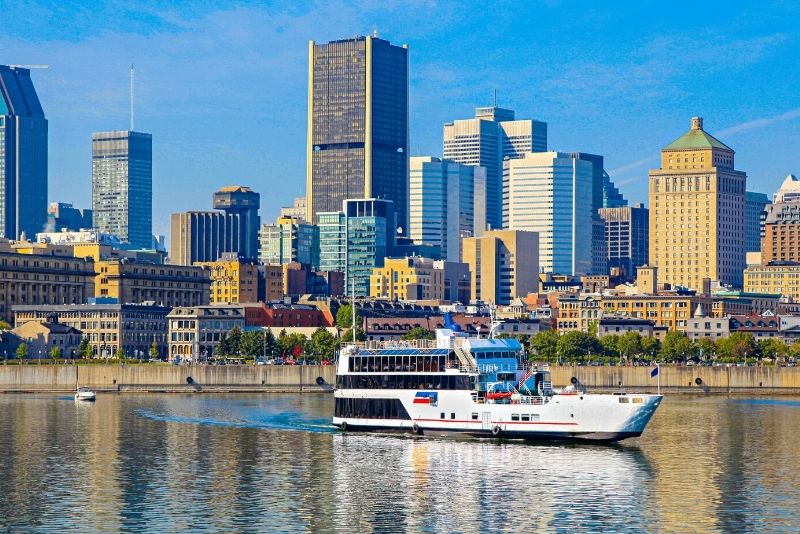 Montreal is an island situated on the St Lawrence River, so a boat tour around the city from the Old Port is a no-brainer. Learn the history behind the original fur trading post that helped Montreal become one of North America's most vibrant cities.
See the Olympic Stadium, the Jacques Cartier Bridge, Habitat '67, and the rest of Montreal's unique architecture in one of the most unique possible ways.
13 – Ride around Montreal's bike paths on a bike tour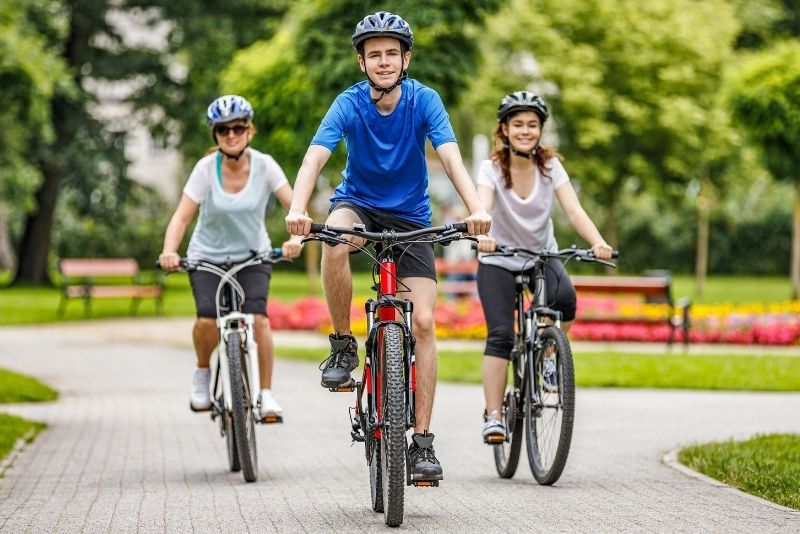 Montreal actually has bike paths all over the city, so a bike tour is a very practical way to make it from one key location to the next.
Cruise through Mile End, the Plateau, Old Montreal, and the rest of the city's hippest neighborhoods, and stop by Parc Jean Drapeau and see the Biosphere.
For the grownups, there are also wine tours that will guide you through some of the cities fanciest wineries and bars.
14 – See the Old Port light up on a dinner cruise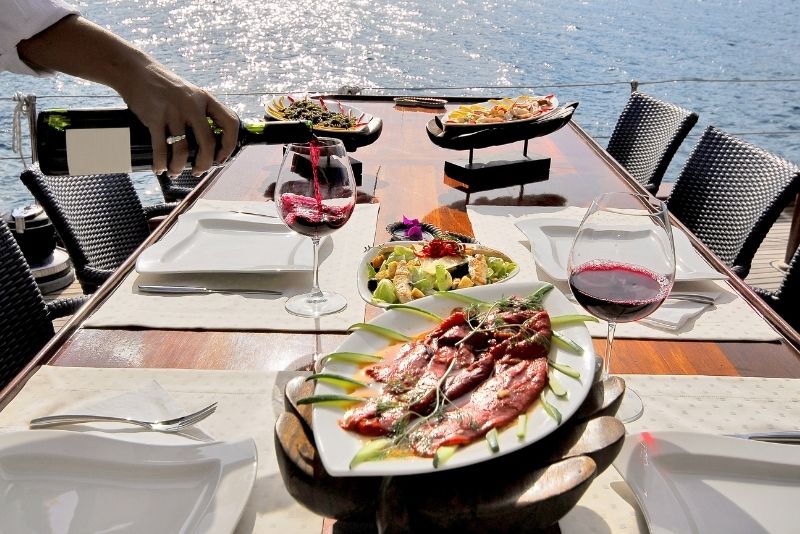 Look out at the waters of the Old Port on any summer night in Montreal and you'll see the unmistakable bright lights and hear the sounds of people having the time of their lives on a magical dinner cruise.
Like the rest of Montreal, the Saint Lawrence River lights up at night. Montreal is known as the most European city in North America for a reason, and the food, entertainment, and company on any dinner cruise are guaranteed to be second to none.
dinner cruises in Montreal
15 – See the Old Port from an exhilarating angle when you go zip lining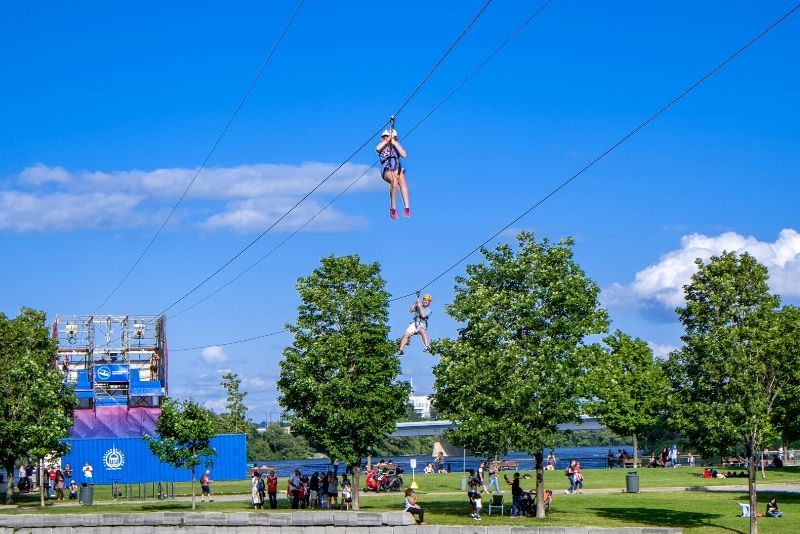 Adding to the list of incredible things to do in Montreal's Old Port is the chance to go ziplining.
Fly over the Saint Lawrence River and see one of Montreal's most picturesque neighborhoods in the most thrilling way possible.
For the real adrenaline junkies, they also offer a quick freefall jump experience from 80 feet up in the air.
16 – See the Olympic Stadium from the sky on a helicopter tour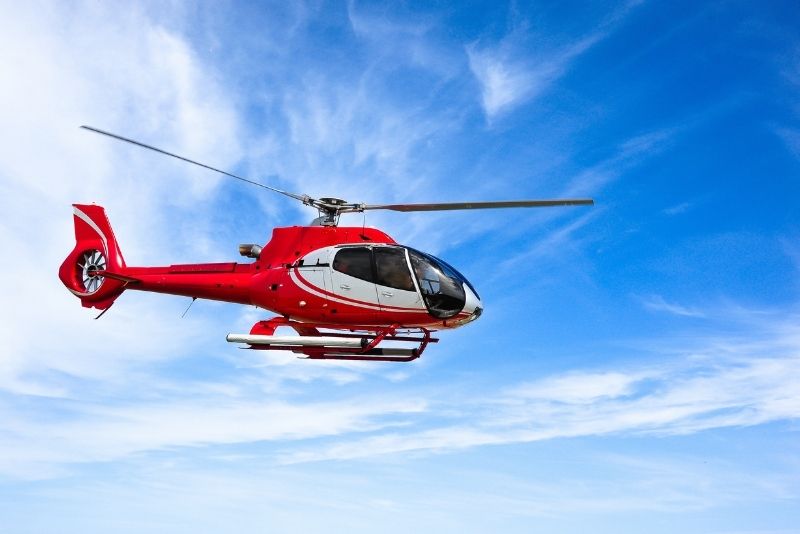 Another great way to take in Montreal is with a helicopter tour.
You'll fly all around the island on a quick tour with a guide and see key spots like the Olympic Stadium, Parc Jean-Drapeau, and Mont Royal. Don't forget to bring a camera!
helicopter tours in Montreal
17 – See one of the small towns around Montreal on an airplane tour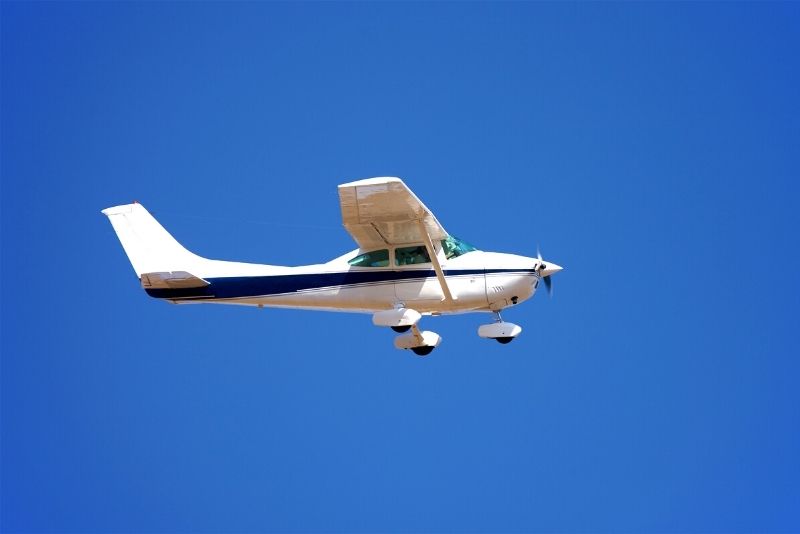 Montreal is a large, dense city, sprawling city, built over more than a hundred years and featuring landmarks representing cultures from all over the world. One of the best ways to take in its splendor is with an airplane tour right out of the Old Port.
The gorgeous small towns that surround Montreal also offer airplane tours, and it's a great way to take in the scenic beauty of places like Trois-Rivieres, home to La Maurice National Park. Speaking of which…
airplane tours in Montreal
18 – See the beautiful lakes at La Maurice National Park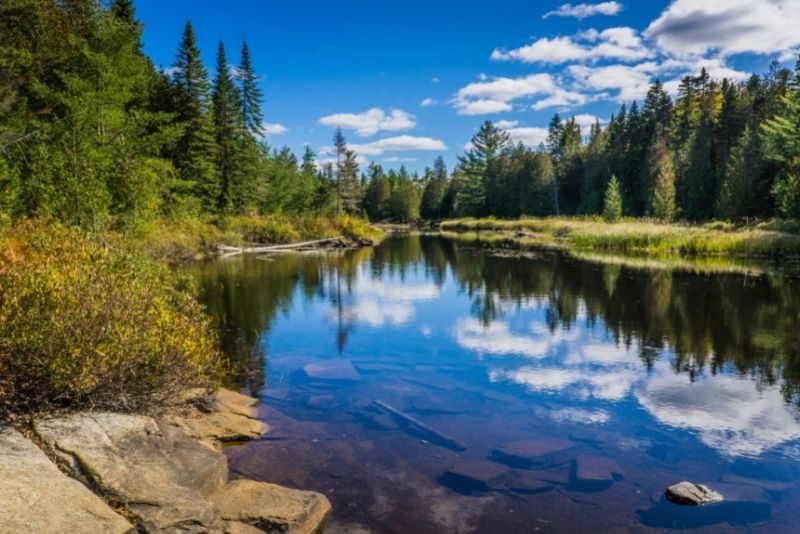 Halfway between Montreal and Quebec City is La Maurice National Park, a huge nature reserve with over 150 lakes. The Park offers tree-top aerial tours, camping, biking, canyoning, and more.
Plus, it's home to all kinds of exclusively Canadian animals like caribou and black bears.
Directions in Google Maps
19 – Go dog sledding with the huskies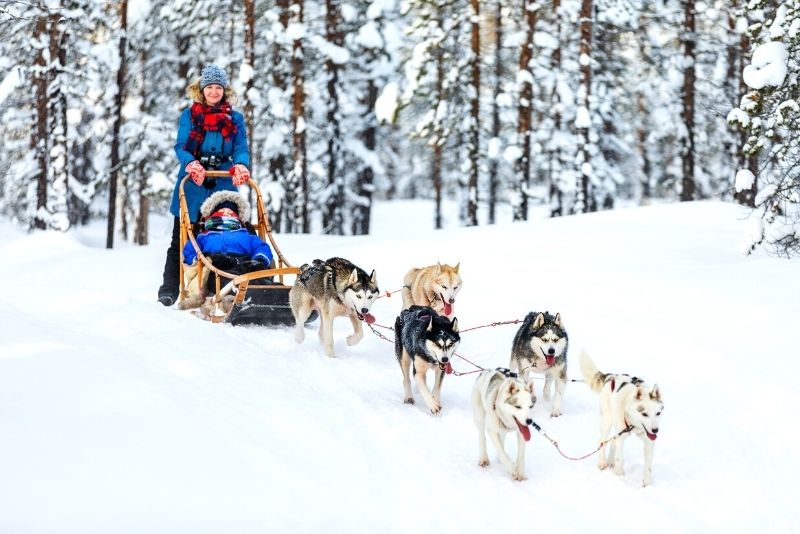 Canadian winters can be tough, but Montrealers certainly don't let the weather keep them inside. Many of the small towns that surround Montreal, like St Hyppolite and Tadoussac, have dog sledding installations that are open to the public all winter long.
You'll be able to guide your very own team of friendly huskies through the snow. Most of these ecotourism installations offer other winter activities like snowshoeing and ice fishing.
20 – Hit a frozen lake and go ice fishing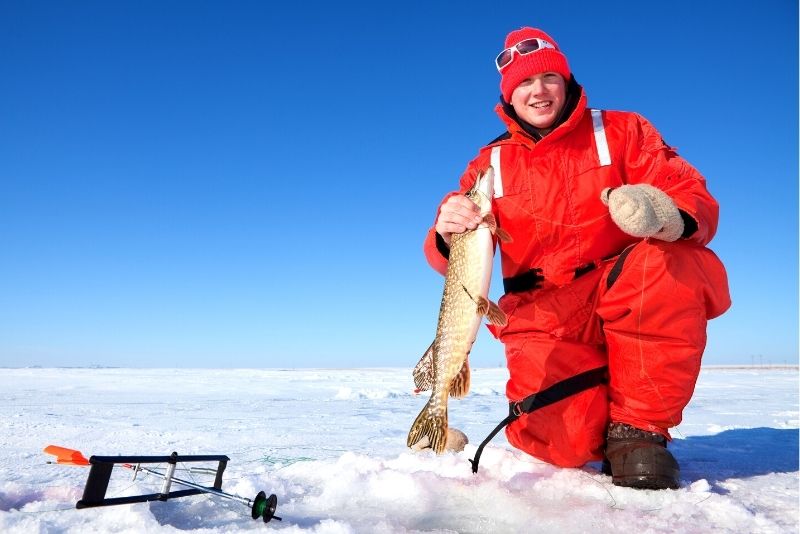 It is legal to go ice fishing on just about any lake in Quebec, so if you've ever wanted to try this unique winter activity, a visit to Montreal could be the chance you're looking for. If you're a first timer and want to see how others do it, you can head to the St Lawrence river right in the city's Old Port.
Or, you could head to a quieter lake in one of the small surrounding towns and enjoy the peace and quiet that only a Quebec winter can provide.
21 – Dance away the winter blues at Igloofest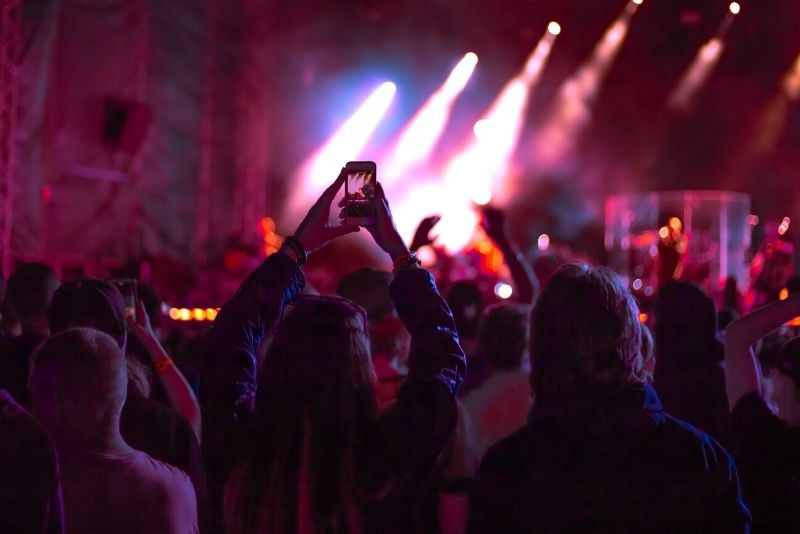 If you thought that Old Montreal would be less active during the winter, think again. As an answer to the summer electronic music festival Picnik Electronic, Igloofest is a nightly electronic music festival that takes place outside during winter's coldest months.
Word class DJs and performers brave the cold to bring nights of dancing to huge crowds bundled together. If you think you've seen everything, wait until you see the ice slides.
22 – Drink maple syrup straight from the tree at a Cabane a Sucre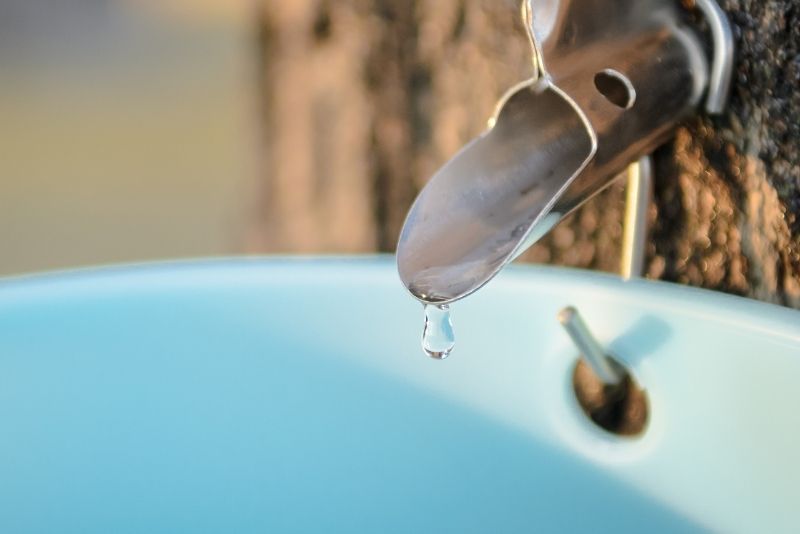 The maple leaf on Canada's flag isn't random, and there are a number of sugar shacks surrounding Montreal where visitors are welcome to stop by and see how the country's most delicious treat is made.
The hands-on nature experience offered at these shacks is one of a kind, as you'll see how the trees get tapped all the way to how the delicious maple-soaked bacon is digested from your plate. If you're lucky, you may even catch a performance from some local fiddle players. We dare you not to start dancing!
23 – Go apple picking and get yourself a barrel of apples to take home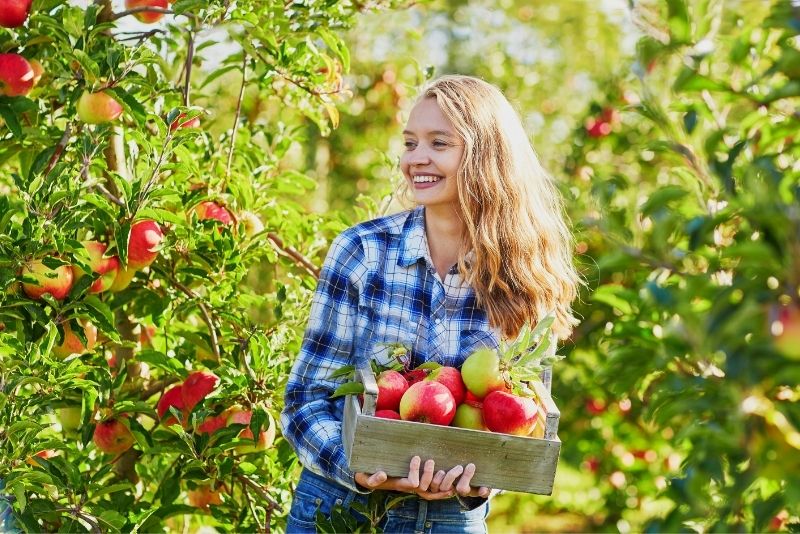 In the fall, the leaves change to incredible colors, the weather becomes perfectly brezzy, and the apples in Quebec's orchards ripen. You'll feel the anticipation mounting as you ride toward the apple trees on the hay truck.
Apple picking on a farm is as magical an experience as it sounds, and you'll walk away with a pile of delicious natural candy to remember your experience by.
24 – Go on a hike through La Fontaine Park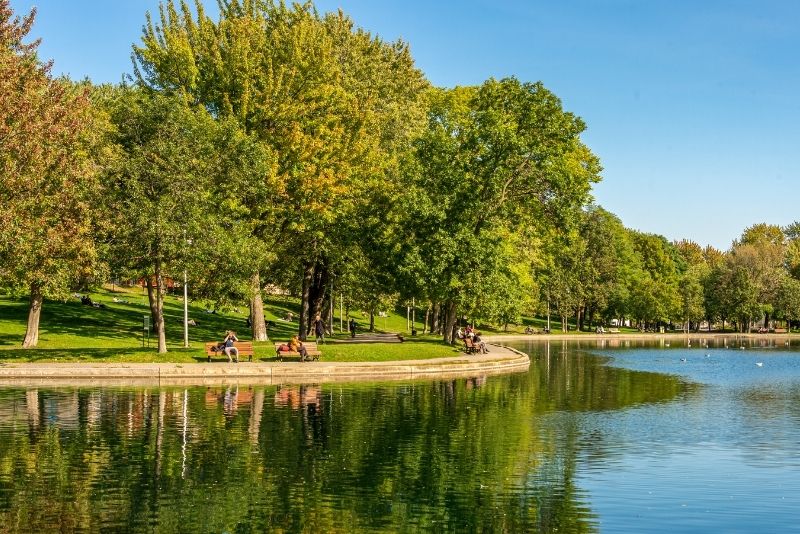 All of the parks in Montreal are gorgeous, and La Fontaine Park in the Plateau is no exception. The park has hiking and biking trails, and it's a great spot for a picnic in the summer.
In the winter you can enjoy the park's gorgeous scenery by going ice skating or sledding.
Directions in Google Maps
25 – See animals from all over the world at Zoo de Granby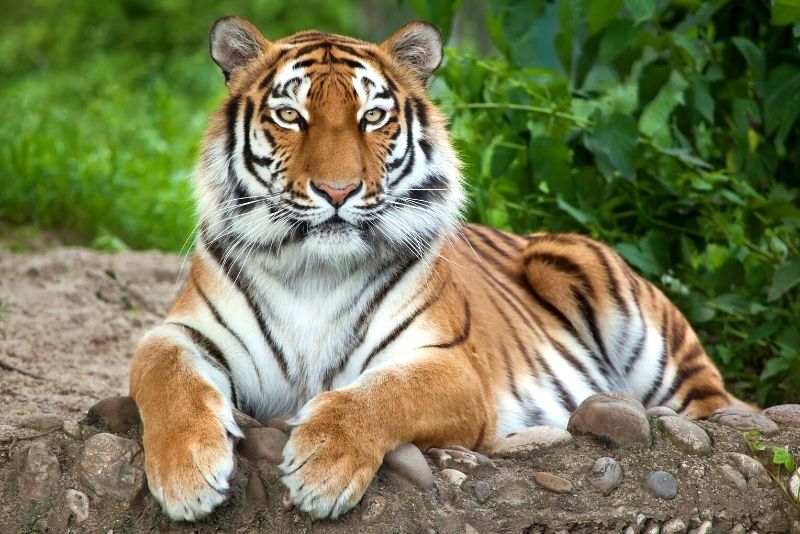 Zoo de Granby houses animals from all over the world, from hippos all the way to cheetahs and tigers. If you're lucky, you may be able to catch an animal's birth while you're there.
Like any other place in Montreal, the landscape of Zoo de Grandy changes between summer and winter, and so do the exhibits, so no two visits are likely to be the same.
Not just any zoo, Zoo de Granby also has a full amusement park, water park, and 3D movie theater on its grounds.
26 – Take a picture with Elton John at Grevin Wax Museum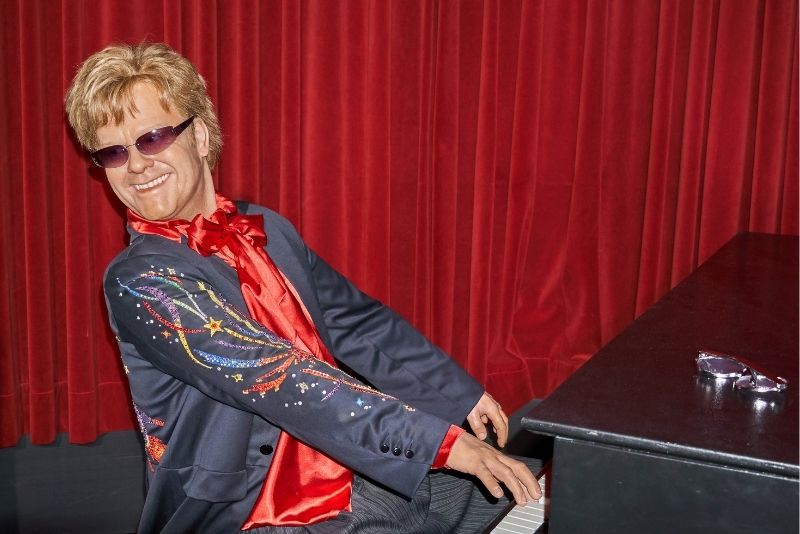 Like any major city worth visiting, Montreal has its own wax museum, home to wax sculptures of famous and historical figures like Elton John, George Clooney and Barack Obama, as well as historical re-enactments.
The museum is free to visit and open all year long. They even let you take photos, so don't forget to bring a camera!
Grevin Wax Museum tickets
27 – Get a taste of Montreal's cultural melting pot on a food tour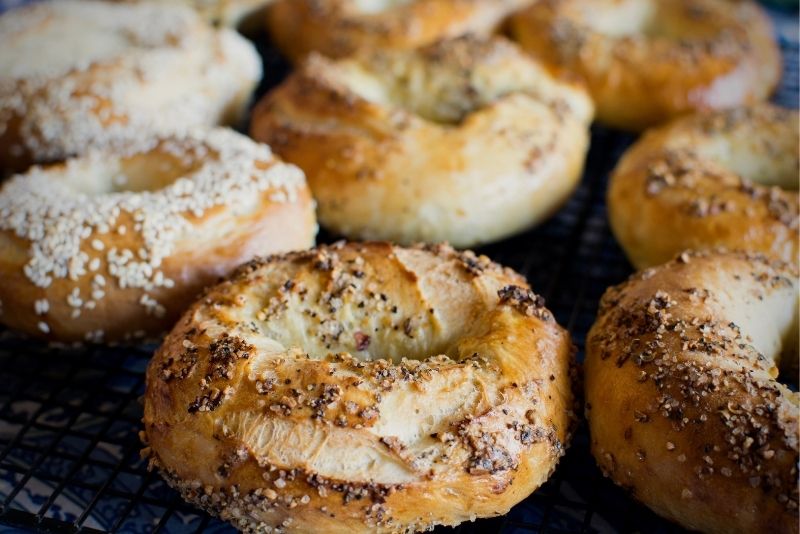 Montreal is a melting pot of cultures and its food is world famous. It's hard to decide what's more iconic between the historic Jewish community and their smoked meat and bagel shops or the French Canadians and their delicious poutines.
Luckily, there's no reason to choose! On a food tour in Montreal, you're guaranteed to find the best poutine, smoked meat, bagels, and plenty of other delicious goodies.
28 – Get a sample of the local berries on a wine tour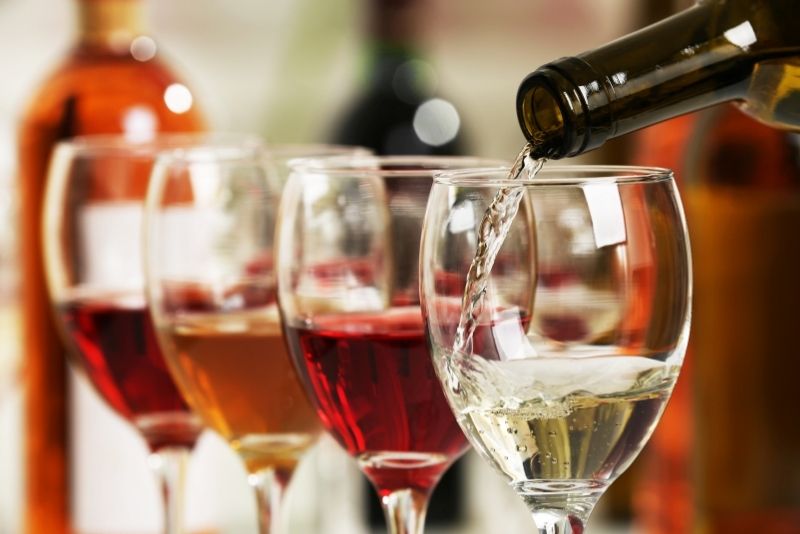 As one of North America's oldest, busiest, and most European cities, Montreal is no stranger to fine wine, both local and imported.
There are no less than 21 wineries that surround Montreal, many of which are in the neighboring Eastern Townships.
A wine tour, or even just a tour of the city that includes wine or beer, is guaranteed to show you the most aromatic wine and spirits the city has to offer.
29 – See why Montreal is famous for its beer on a craft brewery tour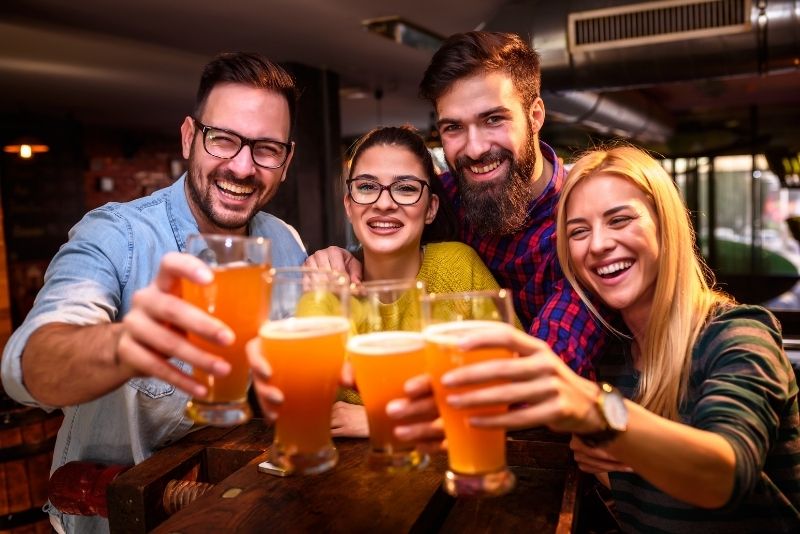 Just like fine food and good wine, Montreal has no shortage of delicious beer and people who brew it. There are so many, in fact, that a tour of some of the best craft breweries in the city's Latin Quarter alone takes 3 hours.
Regardless of which Montreal neighborhood's craft breweries you choose to visit, you're guaranteed to find some delicious beer and good company as you learn about the city's rich history.
beer tastings in Montreal
30 – Climb aboard life-sized pirate ships at Voiles en Voiles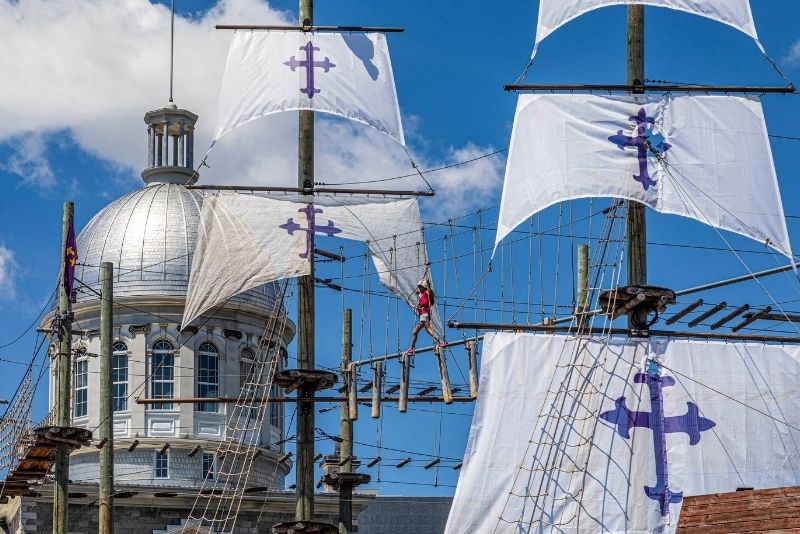 Located in Montreal's Old Port, Voiles en Voiles is an adventure-themed amusement park with a collection of life-sized pirate ships just waiting to be explored.
In the summer, they offer obstacle course and inflatable games, as long as a full-on archery tag arena.
During the winter, they have tube sliding and snow scooter, and the archery tag arena is still open. Plus, you can wind down with a hot drink after a full day of activities.
31 – Learn about the unique bagel making process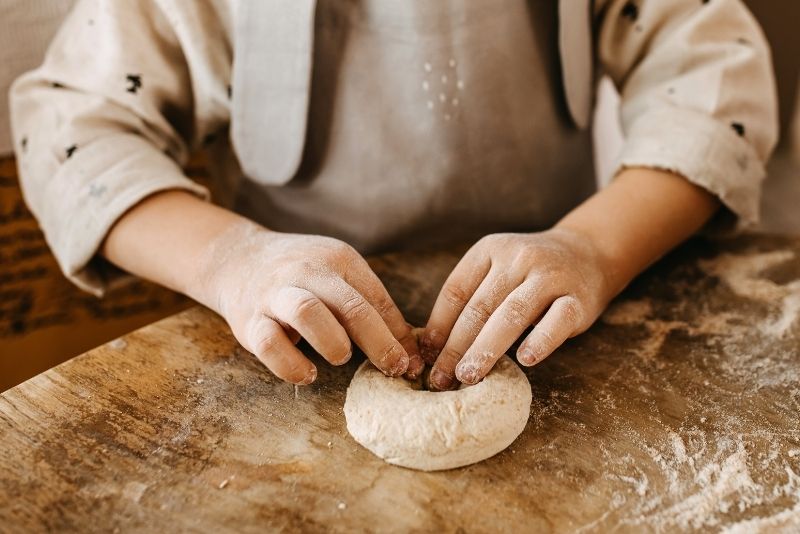 Montreal is famous for its bagels, and the city's bagel making experts are willing to share their secrets with you. Learn exactly what it is that separates bagels from other breads along with the history of the Montreal Jewish community and the heritage that comes along with the delicious pastry.
This is a great way to get to know more about the Plateau and Mile End neighborhoods.
32 – Ride La Grande Roue de Montreal and see the city from up high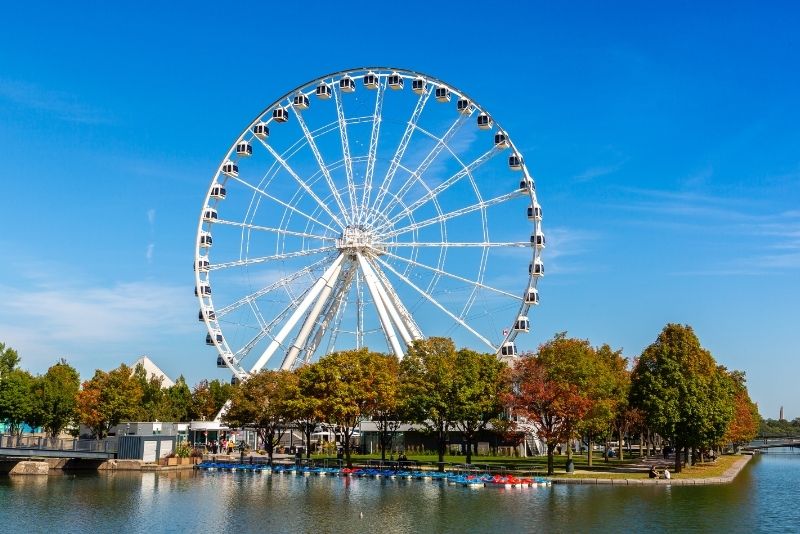 Yet another reason to visit Montreal's Old Port is La Grande Roue, or in English, the giant wheel…A ferris wheel!
The ferris wheel reaches a height of 197 feet, so it's a great way to see the St Lawrence river, Mount Royal, and the Jacques-Cartier Bridge.
La Grande Roue is open 7 days a week 365 days a year.
33 – See Montreal's vibrant mural arts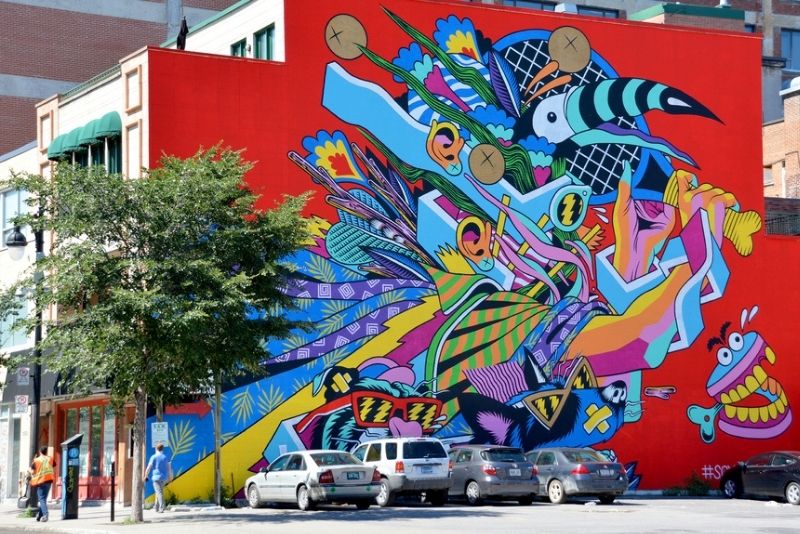 Montreal has a vibrant arts scene, and many of the city's buildings are adorned with gorgeous artwork by professional graffiti artists.
A small section of Saint Laurent Boulevard alone is taken up by over 100 individual unique works of art.
You'll also find murals dedicated to local heroes like Leonard Cohen and Jackie Robinson.
34 – Take a day trip to Quebec City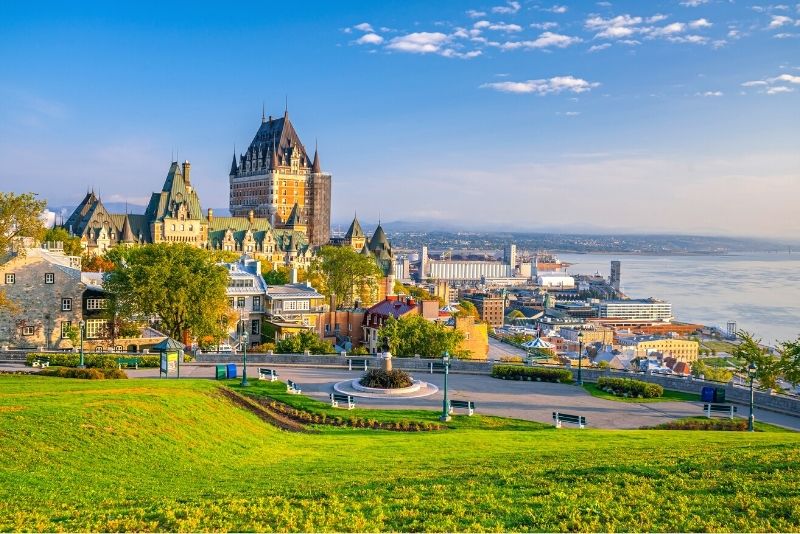 If you wish to visit the best places to visit in Canada, make sure to travel to Quebec City.
Quebec City, which is the capital city of the province of Quebec, is only about 3 hours away from Montreal, perfect distance for a quick day trip.
Much like Montreal, Quebec City is rich in history and culture, with gorgeous architecture everywhere and a vibrant arts scene.
Don't forget to take pictures when you visit the Plains of Abraham or the sparkling Montmorency Falls. Speaking of which…
Quebec City day trips from Montreal
35 – Check out the majestic Montmorency Falls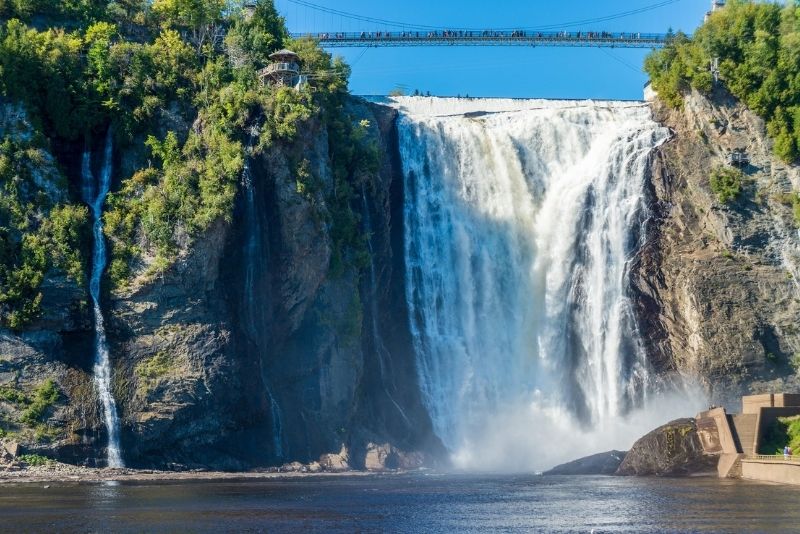 If you're visiting Quebec City on a day trip from Montreal, one thing you must do is visit the waterfalls at Parc de la Chute Montmorency.
The Montmorency Falls rise to an astonishing height of 83 meters. You'll be able to walk across them both from above and below, so don't forget to bring your camera…And a raincoat!
Montmorency Falls day trips from Montreal
36 – See the gorgeous plants at the Montreal Botanical Garden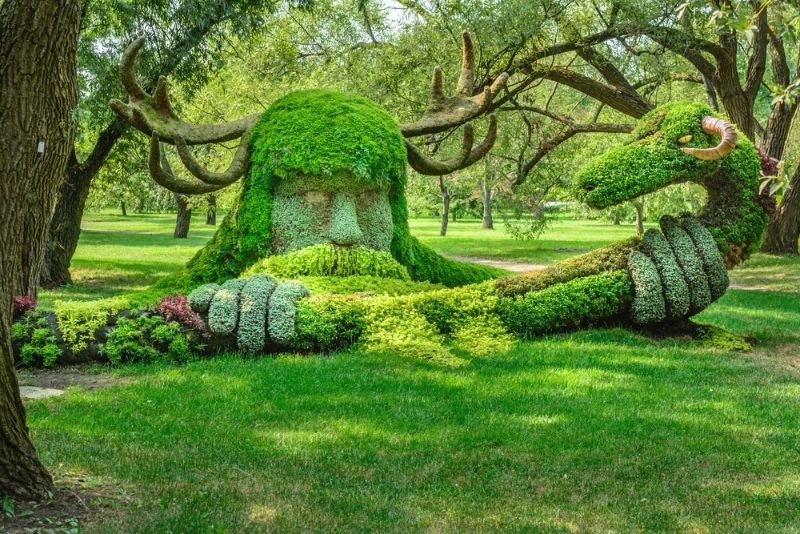 The Botanical Garden in Montreal is one of the largest and most unique collections of plant life.
It's beloved by the locals, and its displays of roses, orchids, perennials, alpine plants, and more are frequented by thousands of tourists every year.
The Botanical Gardens are part of Espace Pour La Vie Montreal, which also includes the Insectarium, Biodome, Biosphere, and Planetarium.
37- Feel like you're really in the rainforest at the Biodome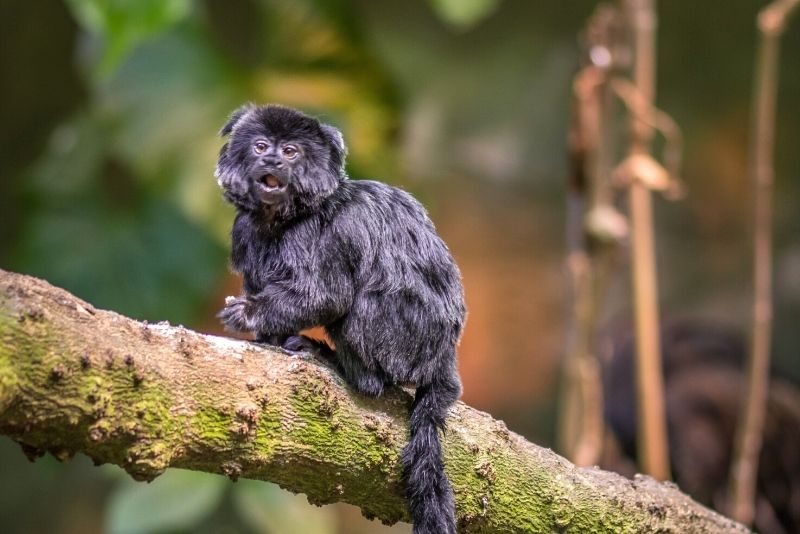 Montreal's Biodome is a truly unique experience that offers accurate recreations of exotic ecosystems like the rainforest and the arctic.
You'll be able to walk through animal habitats as if you were in the wild. It's so big that it qualifies as the largest natural science museum in Canada.
38 – See the more than 45,000 unique pieces at the Montreal Museum of Fine Arts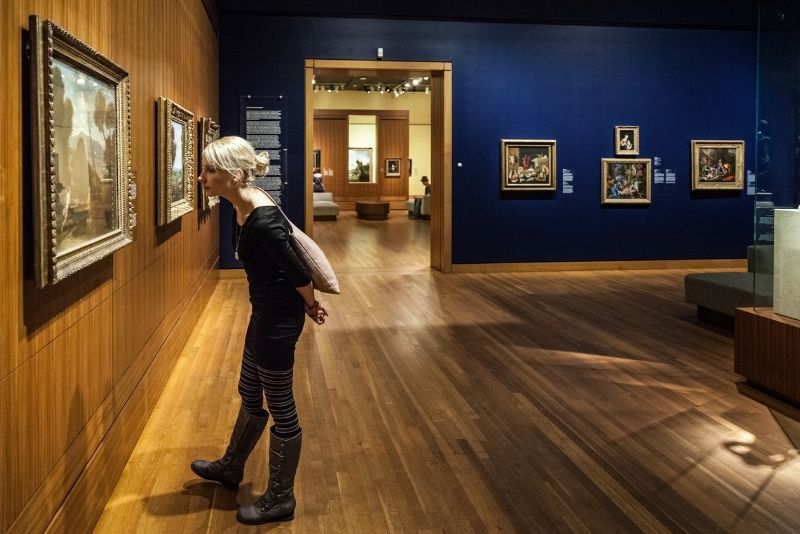 The Montreal Museum of Fine Arts has numerous collections highlighting local and international contemporary art as well as mediums like sculpture and photography.
All in all, the museum boasts more than 45,000 unique pieces.
They change their featured exhibitions regularly and their events and activities calendar is always being updated, so make sure you check out their website before paying them a visit.
39 – Get lost in the best way possible on Saint-Catherine Street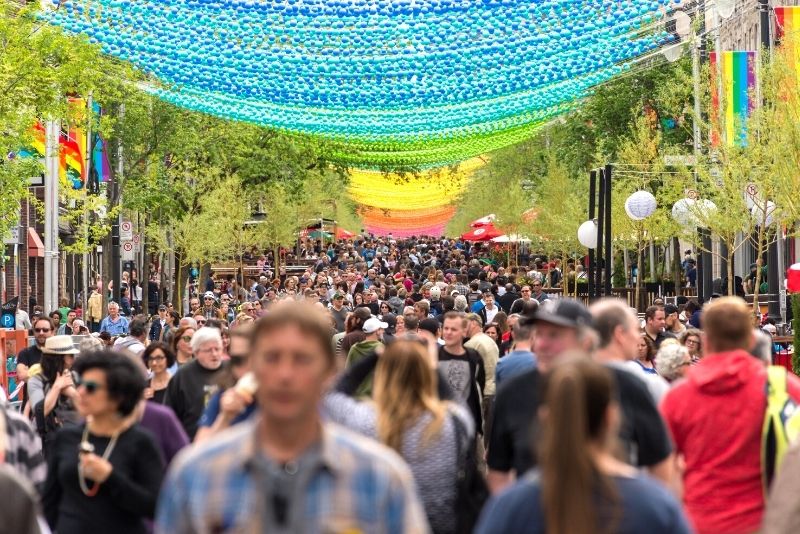 Montreal's downtown nightlife is second to none, and right at the heart of it is Rue Sainte-Catherine. While you're never likely to find parking here, the street is filled with pubs, restaurants, movie theaters, clothing boutiques, hobby shops, and just about anything else you can think of.
You'll also find multiple entrances to the world famous underground city on this street.
Directions in Google Maps
40 – Visit the Old Port of Montreal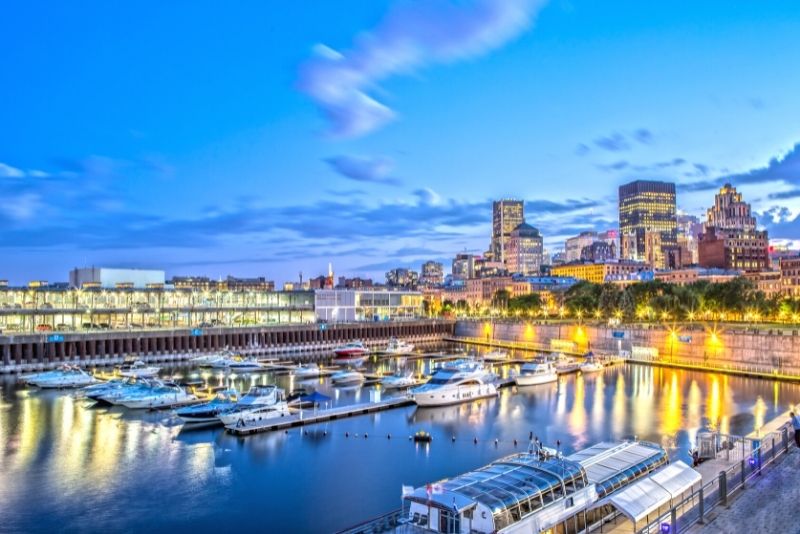 If you're looking for something to do in Montreal, the Old Port should be your first stop. Go during the day to take in the gorgeous architecture, almost completely preserved over 150 years.
Stick around into the night to experience the vibrant social gatherings that happen here almost every night, summer or winter, since festivals like Igloofest take place here.
Plus, there's a giant ferris wheel!
Directions in Google Maps
41 – Visit the unique Museum of Archaeology and History at Pointe-à-Callière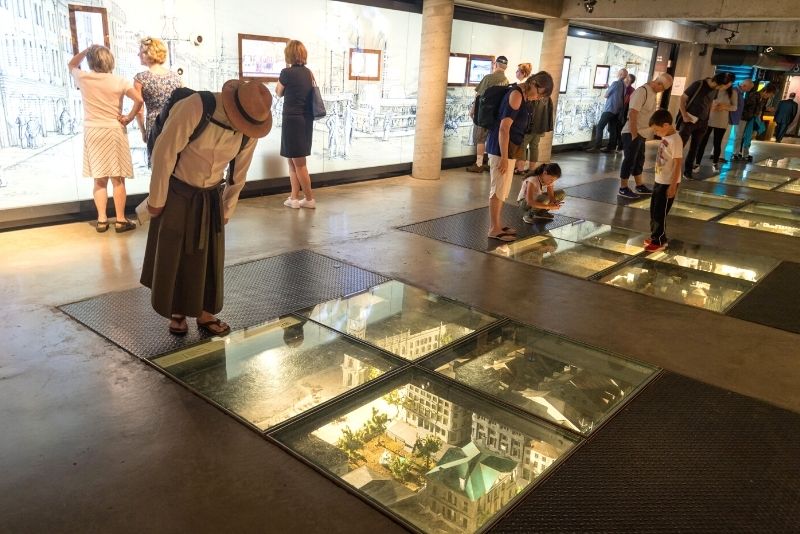 Of all the museums and historical sites in Old Montreal, Pointe-a-Calliere is probably the most comprehensive, and it's the only substantial archeological museum in all of Canada.
Their permanent exhibitions include Where Montréal Began, Memory Collector, Building Montréal, Crossroads Montréal, Archaeo-Adventure and Come Aboard! Pirates or Privateers?
They've also hosted over 60 temporary exhibits since opening, going through three or four every single year.
42 – See Quebec's third largest church, Mary, Queen of the World Cathedral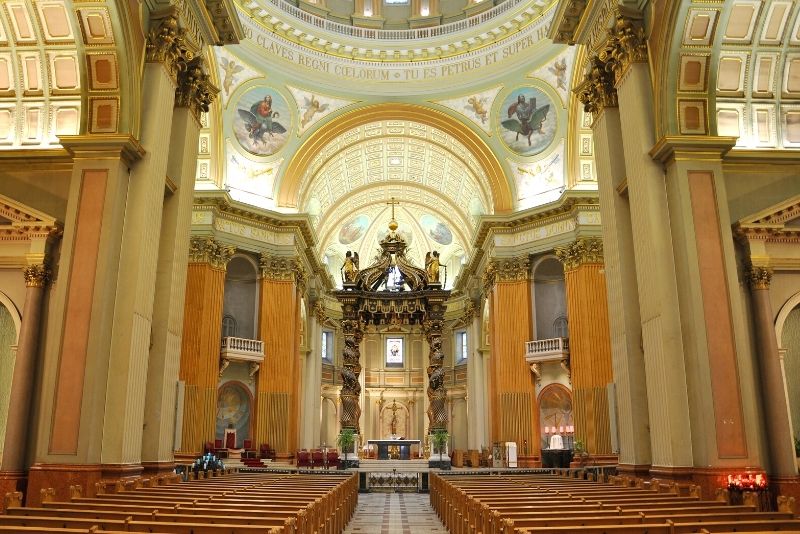 Located right next to the Fairmount Hotel is Mary, Queen of the World and St. James the Great Cathedral, Quebec's third largest church.
It's actually a replica of St Peter's Basilica in Rome, and it was designated as a minor basilica in 1919.
The gorgeous stained glass windows and Italian marble construction are definitely worth checking out.
Directions in Google Maps
43 – See the Habs score a goal at the Bell Center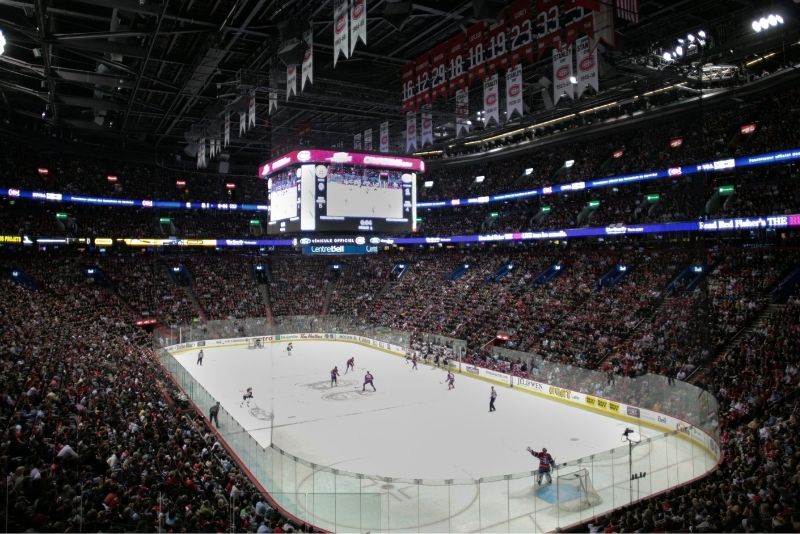 Formerly the Molson Centre before it was purchased by Bell Media, La Centre Bell is home to Montreal's beloved hockey team, The Montreal Canadians.
Aside from hosting their practices and all of their home NHL games, the Bell Center also plays host to most other major touring events that pass through the city.
There's also a gift shop where you can purchase merchandise associated with the famous hockey team.
44 – Trace the evolution of humankind at the McCord Museum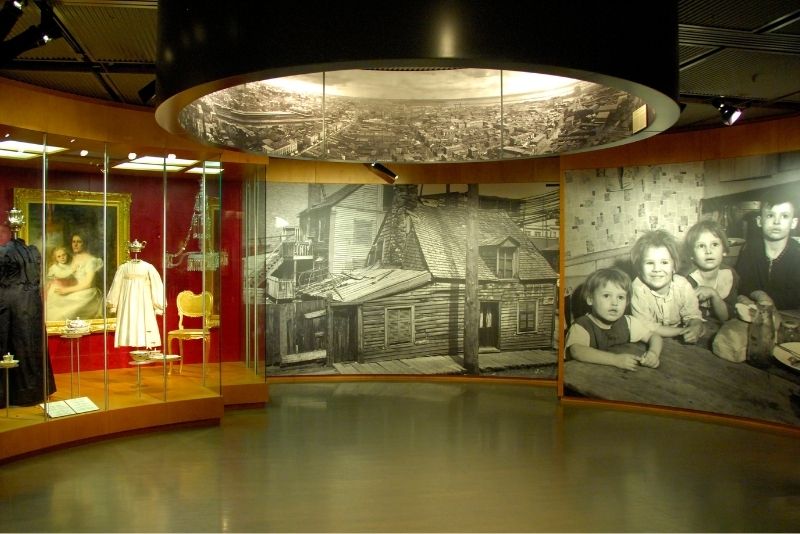 The McCord Museum is dedicated to collecting objects, images, and documents that could be considered firsthand accounts of key moments in Canadian history.
You'll be able to see the evolution of modern fashion and industry over 300 years, as well as the indigenous culture that dates back far longer.
The museum offers a number of activities and events and even offers outdoor tours for an even more in depth experience.
45 – Find whatever you need in the Underground City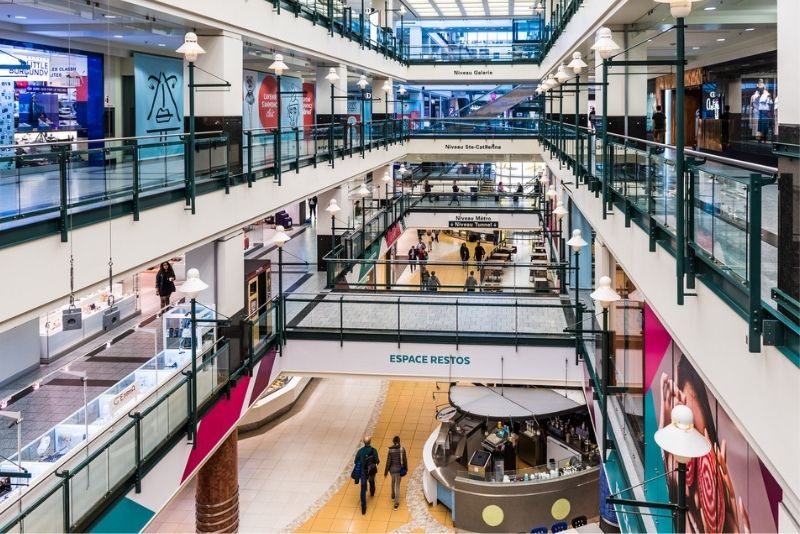 The Underground City in Montreal is actually a bit of a misnomer since nobody actually lives there. It's actually a large series of interconnected shopping centers which link to numerous stops along with Montreal's underground subway system.
Specialty shops, tailors, movie theaters, food courts – you name it, you'll find it here. During the Holiday season, the city truly transforms into a wonderland with decorations and special events.
46 – See Notre-Dame-de-Bon-Secours Chapel at the Marguerite Bourgeoys historic site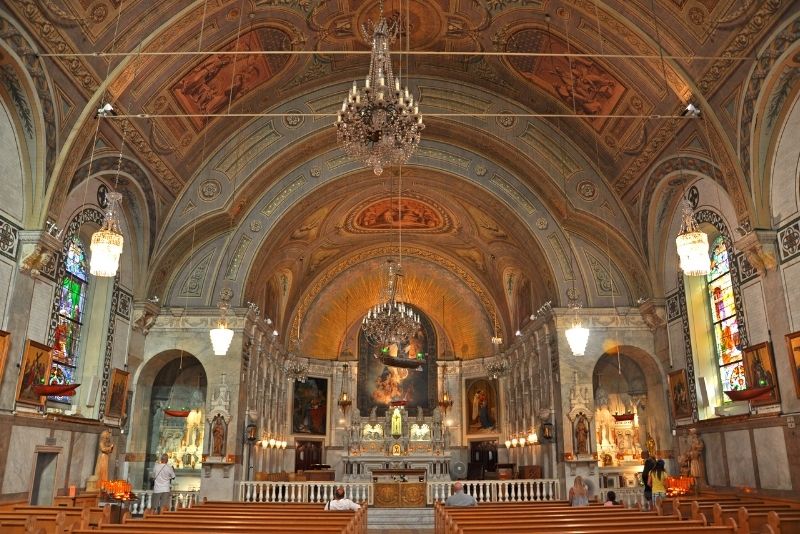 Marguerite Bourgeoys is an important person in Quebec history, both as an educator and as a leader, and the Marguerite Bourgeoys historic site, with the museum and chapel, is dedicated to her memory.
The chapel itself is over 350 years old, and sits atop the ruins of the first chapel ever built in Montreal.
If you're looking to learn about Montreal's history, this is a great place to start.
47 – Dive into a massive swimming pool at Olympic Park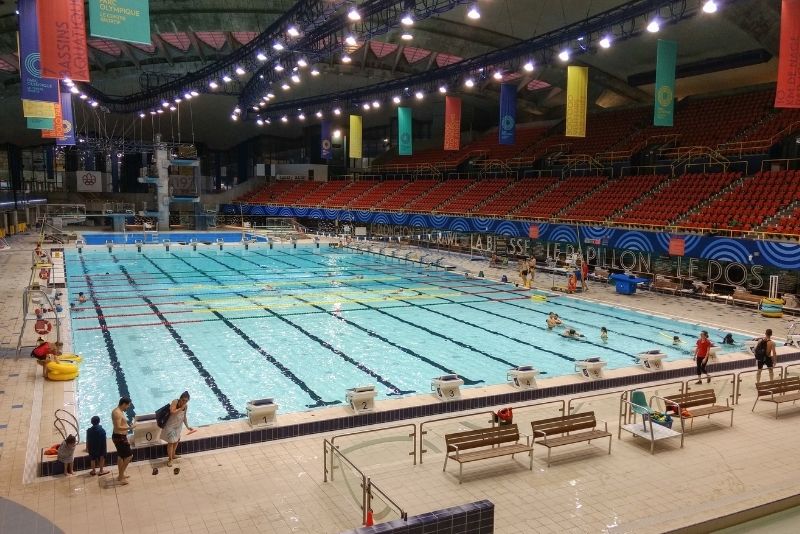 See the famous leaning Montreal Tower. Check out the gigantic Olympic Stadium, big enough to hold 60,000 screaming fans. Dive into the massive pool.
All of this and more awaits you at Montreal's Olympic Park, constructed in the early '70s to host the 1976 Olympic Games.
48 – Have a delicious meal in Chinatown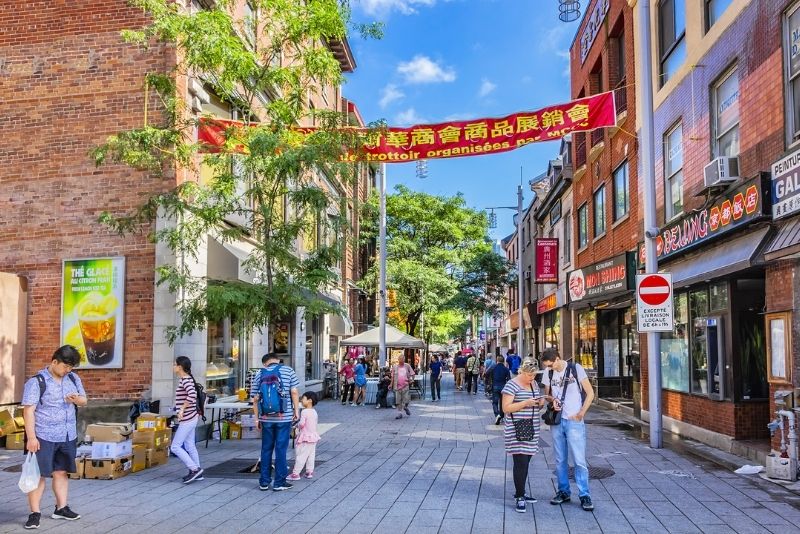 You'll know you've reached Montreal's Chinatown by the giant, ornate arch that stands in the middle of the road to mark its entrance.
Within these few blocks, you'll find exquisite restaurants and shops that all offer the finest imported ingredients. The shops are also full of knick-knacks directly from China that you're not likely to find anywhere else.
49 – Score a perfect game at the Rose Bowl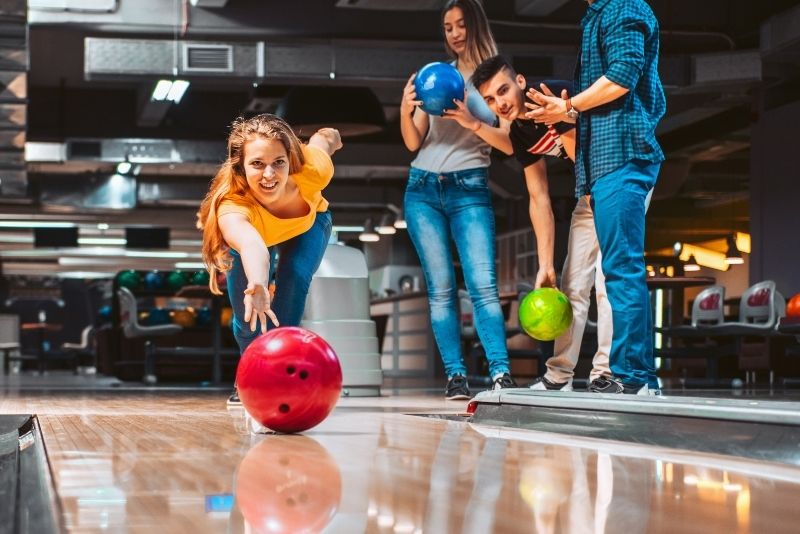 NDG isn't one of Montreal's most chic neighborhoods, but it does have at least one key location: The Rose Bowl.
This bowling alley is a Montreal staple for people of all ages. For the youth, they host birthday parties. For the teens, there's a fully stocked arcade. And for the grownups, there's a full bar complete with a pool table and video lottery machines.
50 – Try your luck at Casino Montreal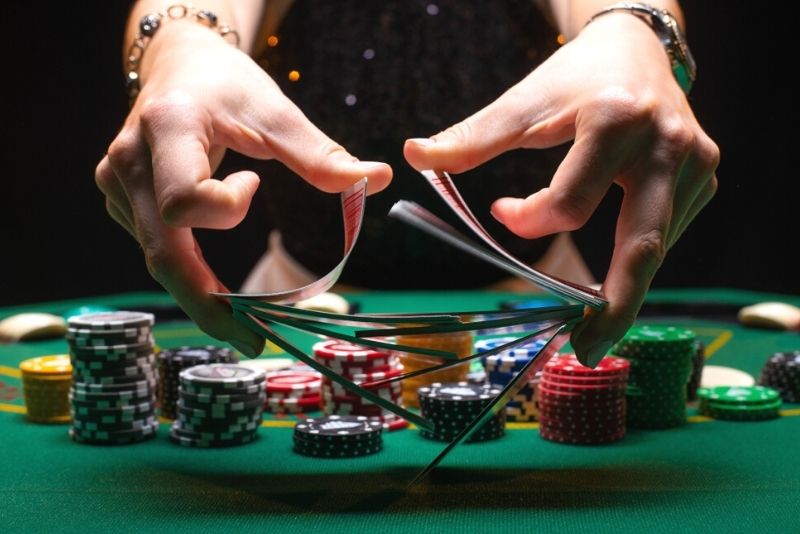 One of the city's key leisure spots, Casino Montreal is open every day well into the evening. They've got all the staples in terms of games (Poker, Blackjack, Roulette, etc) and their service is worldclass.
They're located on Notre Dame Island, and there are always shuttles available to and from the casino.
51- See where Canada's brightest minds are educated at McGill University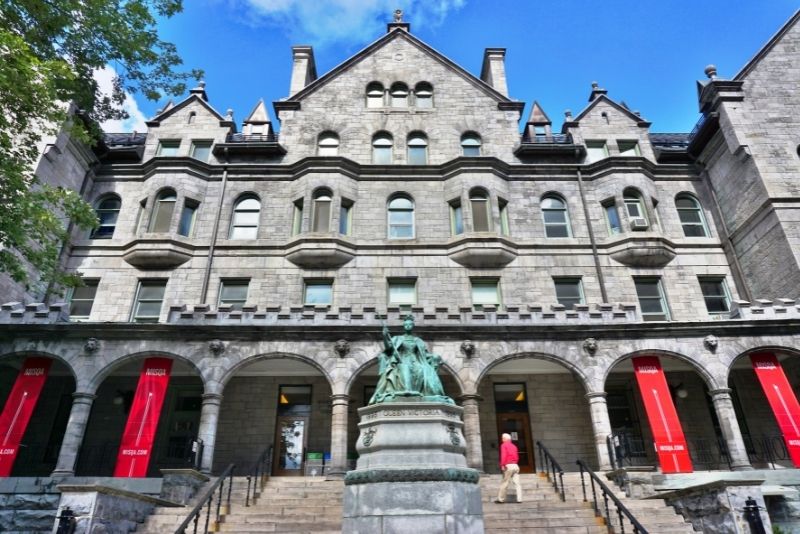 McGill University is one of Canada's most respected universities. They have world-class library and museum facilities as well as student bars, and there are often events, workshops, and activities for youths on their campus.
The area around the university is representative of Montreal's social scene, so a view of its massive campus is hard to avoid during a visit.
52 – See the F1 Grand Prix at Circuit Gilles Villeneuve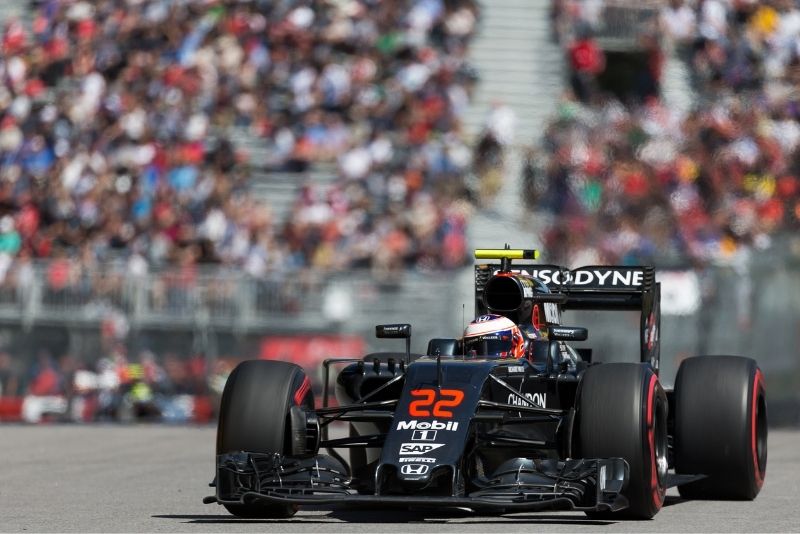 For decades, The Formula 1 Grand Prix of Canada has hit the Gilles Villeneuve Circuit every single summer. It's an electrifying tradition that brings people from all over the world to watch the races as well as hit Montreal's downtown nightlife.
When it's not being taken over by race cars, the track is usually open to be walked along, and there are a number of works of art and activities that can be accessed from there. Otherwise, it plays host to other sporting events like cycling or skating.
53 – Learn about the universe at Planetarium Rio Tinto Alcan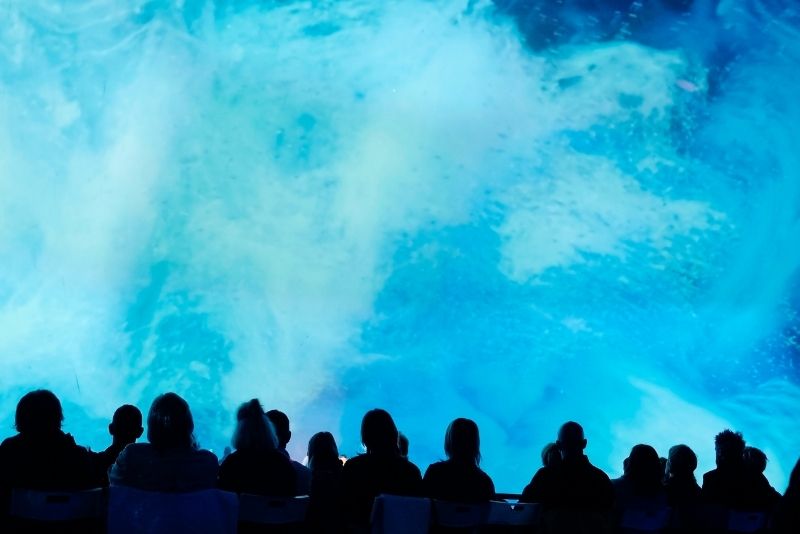 The Rio Tinto Alcan Planetarium is another great reason to pay a visit to the Montreal Olympic Park.
They have a number of regular shows that display things like the history of the solar system and the Aurora Borealis in the North Pole.
They're also located extremely close to the Montreal Biodome, so you can literally explore every known environment between the deepest jungle and outer space, all in the span of an afternoon.
54 – Find hidden culinary treasures in Little Italy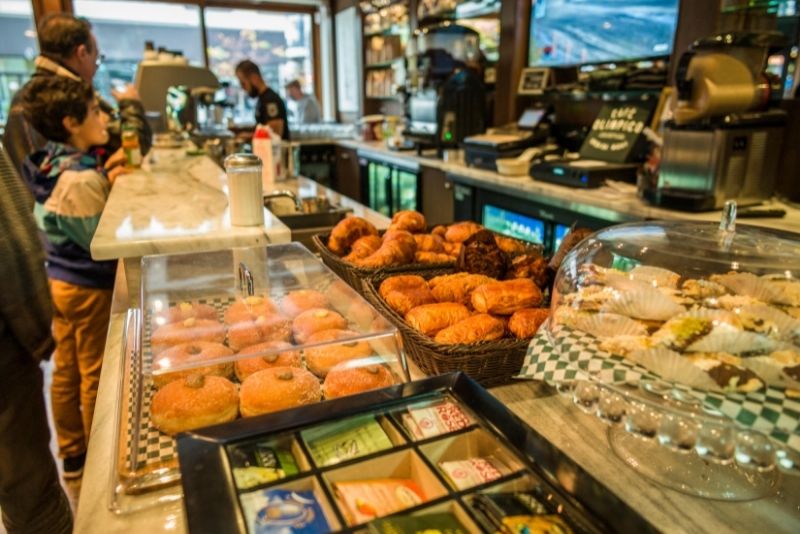 Little Italy is a small Montreal neighborhood, but it's one you'll want to pay a visit to if you love delicious food or exquisite art.
Located just north of the downtown area, the neighborhood is full of quaint cafes, authentic Italian restaurants, and art boutiques. Get ready to be charmed off your feet!
Directions in Google Maps
55 – See the world's largest permanent collection of Barbie dolls, the Barbie Expo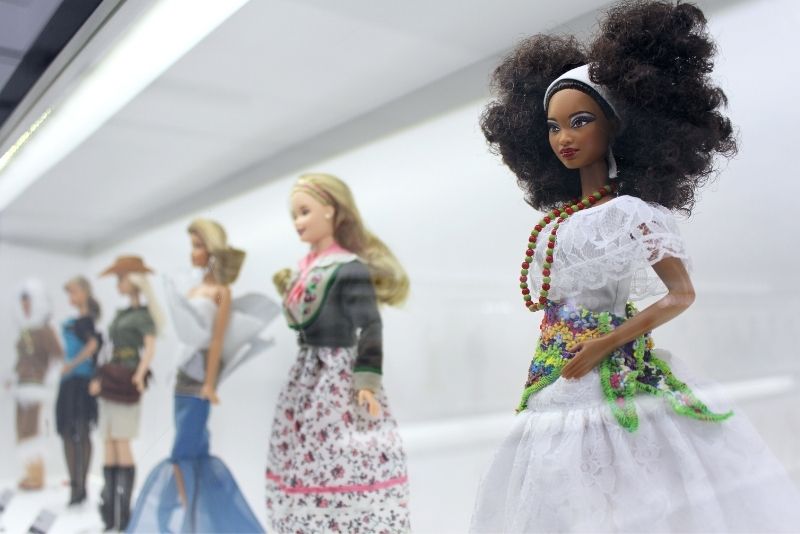 If you've ever wondered where the largest permanent exhibit of Barbie dolls is, wonder no more!
The Barbie Expo in Montreal has hundreds of Barbie dolls from all across the toy's rich and complex history, all perfectly restored to pristine condition.
The exhibit is open 7 days a week and is free to the public.
56 – Catch an outdoor show at Quartier des Spectacles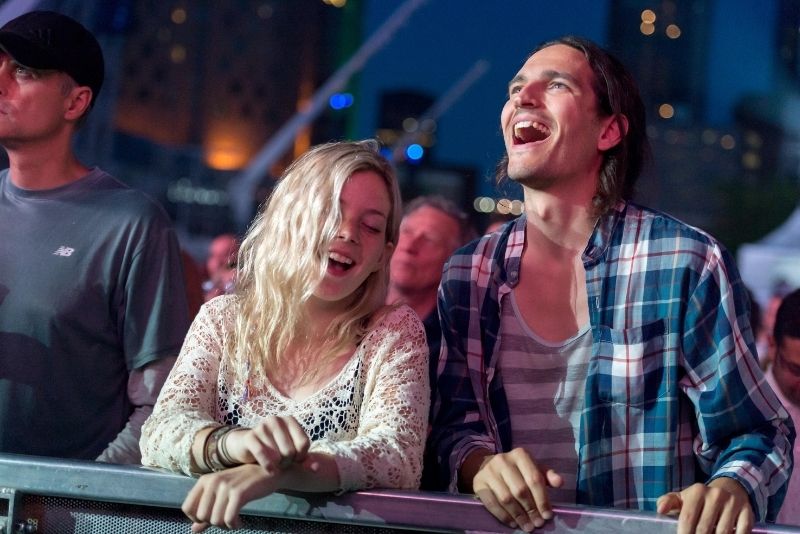 In the summertime, Montreal's Quartier des Spectacles is absolutely the place to be. When the weather gets hot, the neighborhood's bars, restaurants, and outdoor spaces all become flooded with people enjoying back to back festivals like Just for Laughs, Jazzfest, and Les Francofolies.
Day or night, there isn't a moment between June and September where something isn't happening here.
57 – See a famous comedian at the Just for Laughs Festival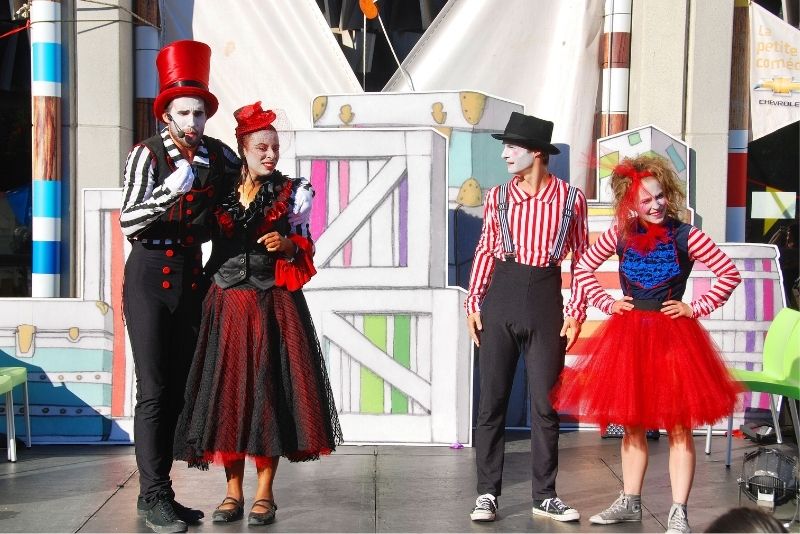 For two weeks every summer, Montreal's Quartier des Spectacles, as well as many of its indoor venues both large and small, are taken over by humorists, clowns, standup comedians, and funny people from all walks of life as part of Montreal's Just for Laughs festival.
Comedians like George Carlin, Eddie Murphy, Sarah Silverman, and more have all traveled to Montreal over the years to take part in the festival.
58 – Catch a free outdoor show at the Montreal Jazzfest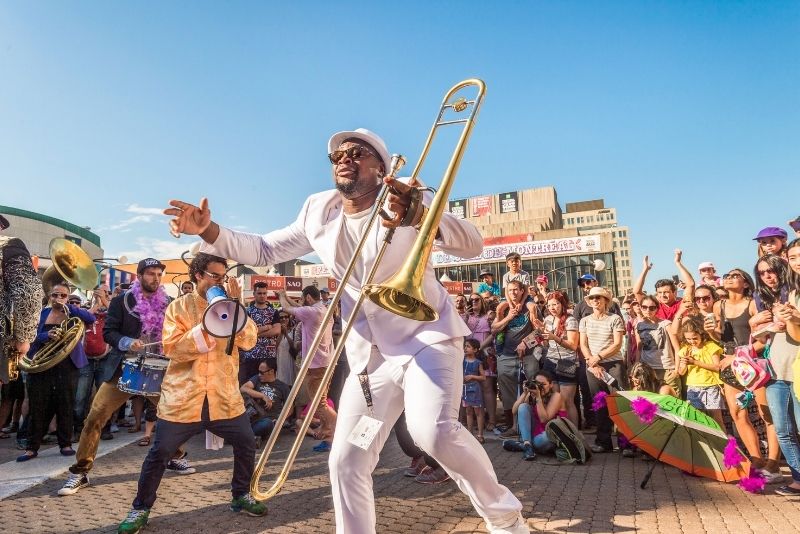 The Jazzfest has been a summer staple in Montreal for decades. During this two-week long period, local bars play host to all kinds of artists, both local and international, but the real headline are the huge free open-air concerts that take place around the Quartier des Spectacles.
Singers, rappers, and jazz musicians from all over the world take part in this top rate summer festival.
59 – See the best French artists at Les Francofolies de Montreal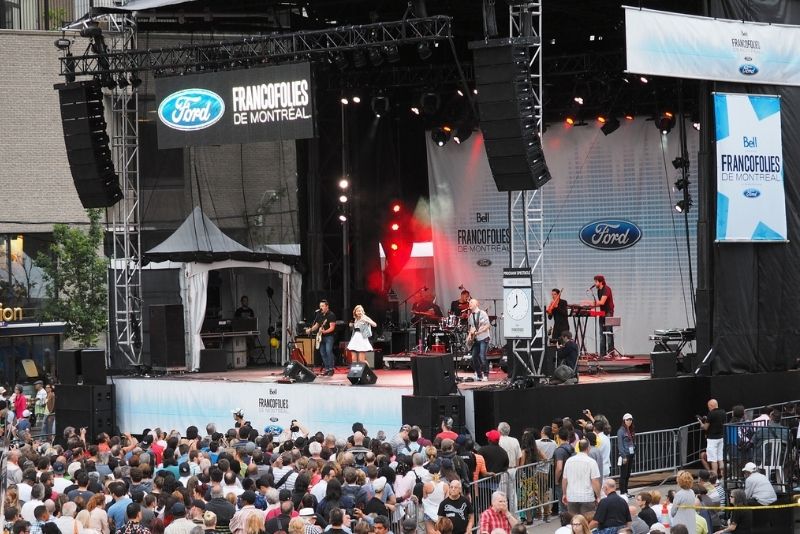 Les Francofolies de Montreal is yet another festival that takes over the streets of the city every summer. This festival is dedicated to celebrating French music, art, and culture, both locally and internationally.
Like most a lot of the other summer festivals in Montreal, Les Francos is made of a combination of free outdoor events and paid events at local bars and pubs.
60 – Dance all day at Piknic Electronik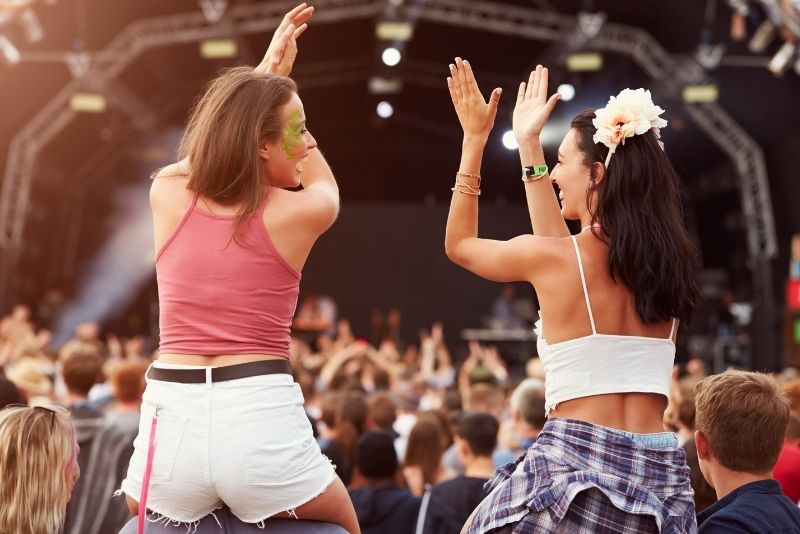 Every weekend, all summer long, Parc Jean-Drapeau in Montreal gets taken over by Piknic Electronik with a number of stages that highlight talented DJs from Montreal and all around the world.
The event starts late in the morning every Saturday and Sunday and finishes late in the evening with a high profile headliner. The festival kiosks offer special drinks and local vendors sell food and snacks.
61 – Learn about bugs at the Insectarium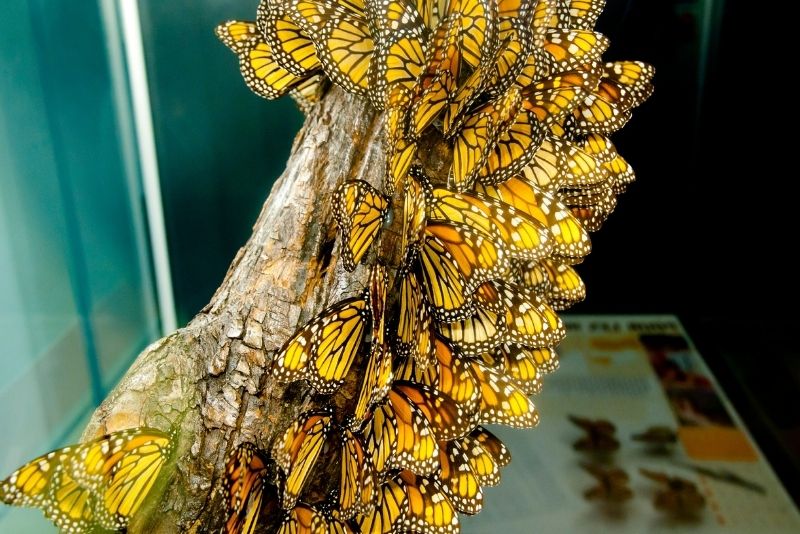 Have you ever thought about just how different bugs look from place to place? The Montreal Insectarium has displays of bees, ants, butterflies, and all kinds of other creepy craws from all around the world, both live and dead.
While you're learning about them, you might be tempted to try some of the incredibly unique food offered at the Insectarium. If you have the stomach for it, that is!
62 – Shop the unique boutiques at Marché Bonsecours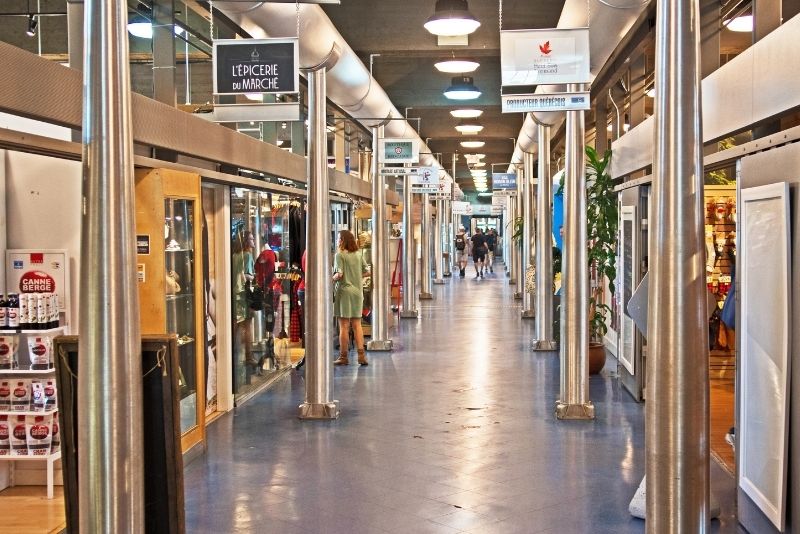 Located in Old Montreal and open all year round, Marche Bonsecours has over a dozen unique specialty boutiques, all dedicated to selling products made in Quebec.
There are also a number of chic restaurants and terraces where you can sit and enjoy the sites and sounds of one of Montreal's most frequented neighborhoods during the warmer months.
The market's prime location put it within walking distance from the underground subway as well as a number of busses.
63 – See the impressive collection at Musée d'Art Contemporain de Montréal (MAC)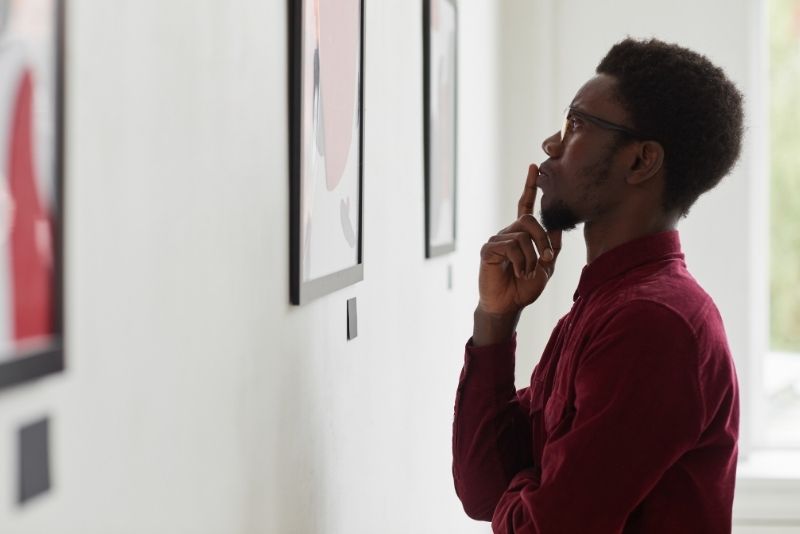 The MAC boasts an impressive collection of contemporary art by Quebecois and Canadian artists, including 55 works done by renowned artist Paul-Émile Borduas. Their calendar of events and workshops updates frequently.
They also maintain a number of outdoor exhibits situated at different locations around the city.
64 – See one of Montreal's oldest streets, Rue Saint-Paul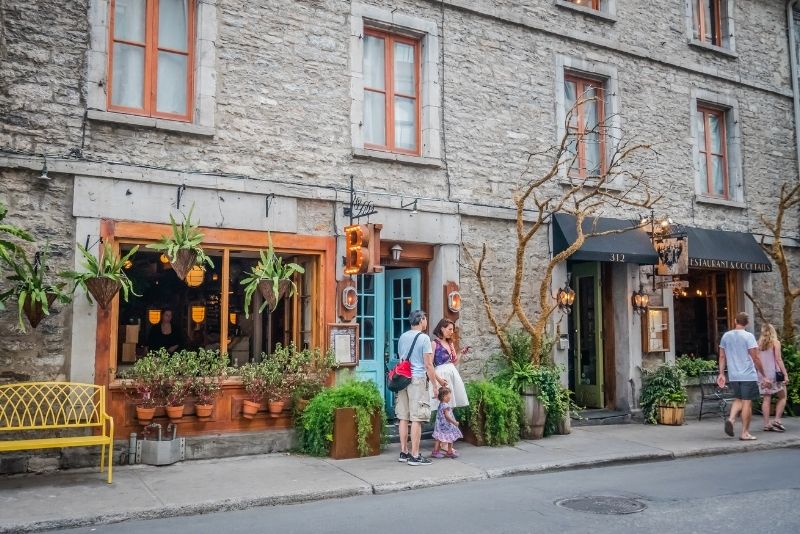 Rue Saint-Paul is a staple of Old Montreal as it was one of the city's first streets. Landmarks like the Bonsecours Market and the Notre-Dame De-Bonsecours Chapel are located on this street.
The architecture that you'll find here is some of the most beautiful that the city has to offer.
Directions in Google Maps
65 – See why Saint Laurent Boulevard is the beating heart of the city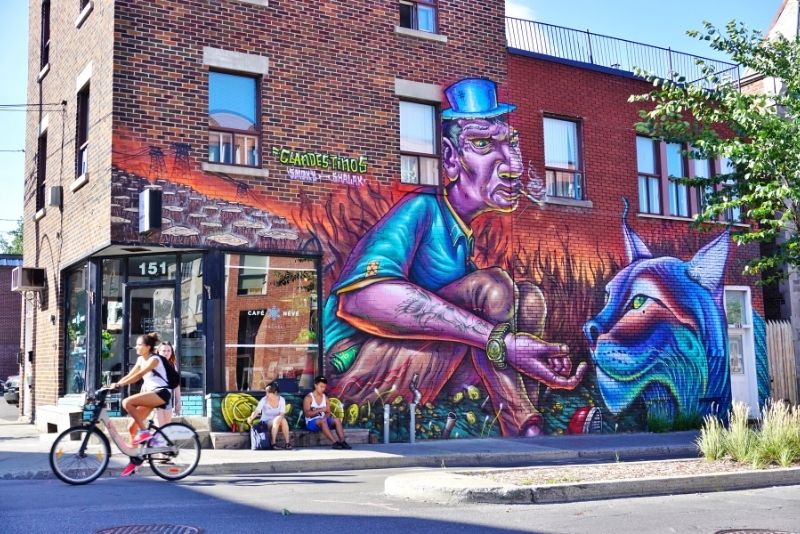 Saint Laurent Boulevard is one of Montreal's longest and most important streets.
At its center is a dense collection of bars, restaurants, shops, boutiques, and apartments that make up the heart of the Plateau neighborhood.
Whether you're here during the night or during the day, you're always guaranteed to find something to do.
Directions in Google Maps
66 – Find out why Château Ramezay is one of the 1001 things to see before you die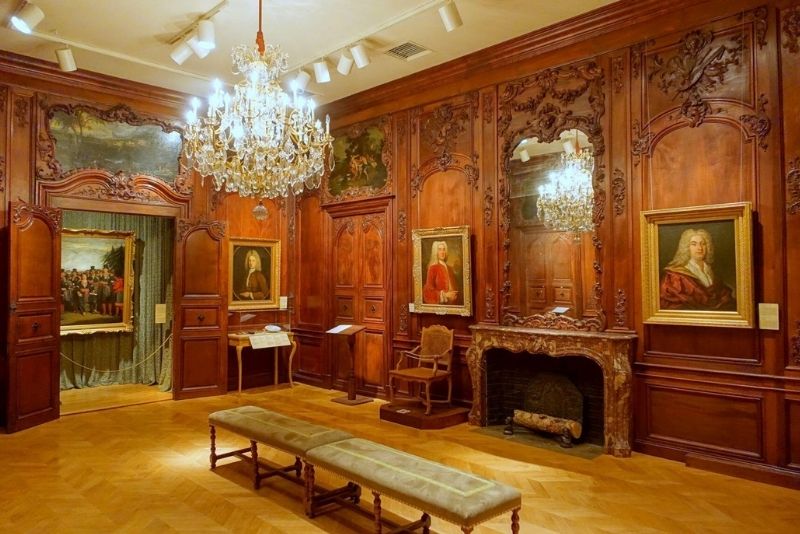 Chateau Ramezay is both a museum and historic monument located in Old Montreal. They have a specialty for recreating life the way it was hundreds of years ago, when Montreal was nothing but a small settlement.
The museum was named by a group of UNESCO experts as one of the 1001 sites to see before you die.
67 – Ride the roller coasters at La Ronde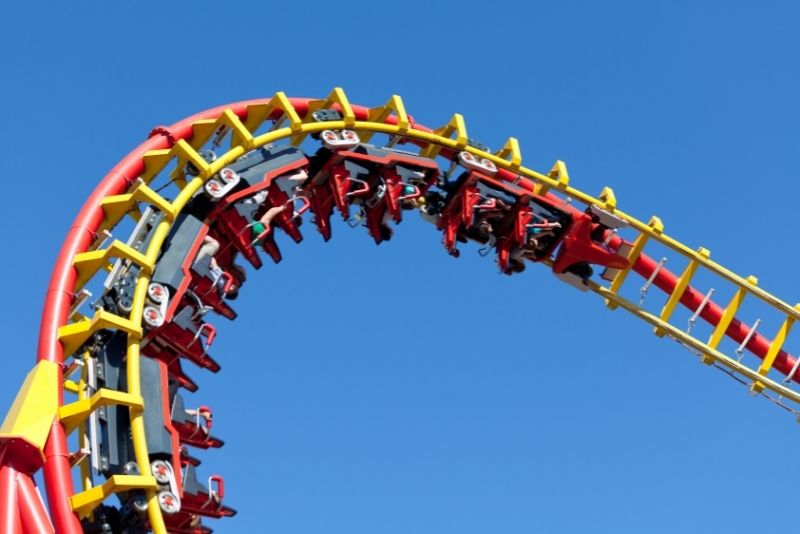 Spending a day at La Ronde is one of the best things to do in Montreal, especially if you're traveling with a family.
Some of the most thrilling roller coasters in the world call this park home, like The Monster, which to this day is almost entirely constructed of Wood, or The Boomerang, which flips you upside down twice, and then does it again, only backwards.
During the summer, the park hosts regular fireworks displays from countries around the world, along with other family friendly events.
68 – Stay the night at Complexe Desjardins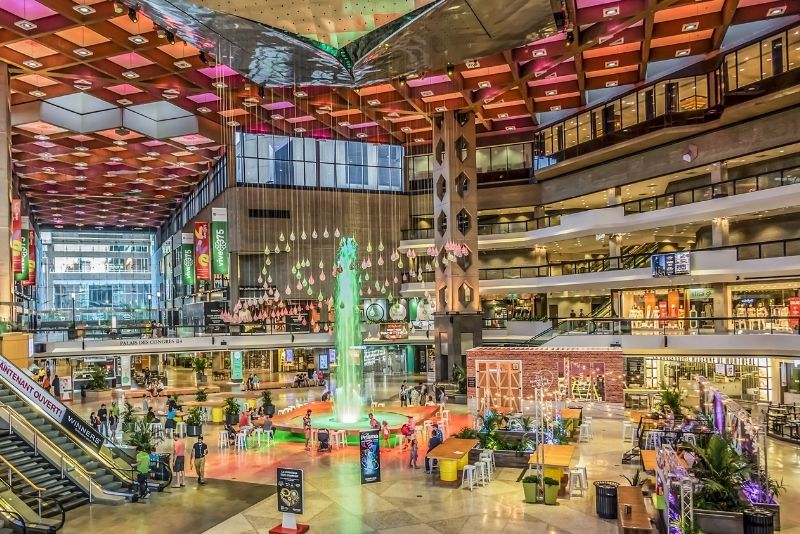 Complexe Desjardins is a collection of four tall, sleek structures that touch on the corners of some of downtown's most vibrant streets and make up a shopping complex as well as a hotel and a series of offices.
It's loosely connected to Montreal's underground city and has easy access to the subway system.
shopping tours in Montreal
69 – Journey to Laval and see Le Centre de la Nature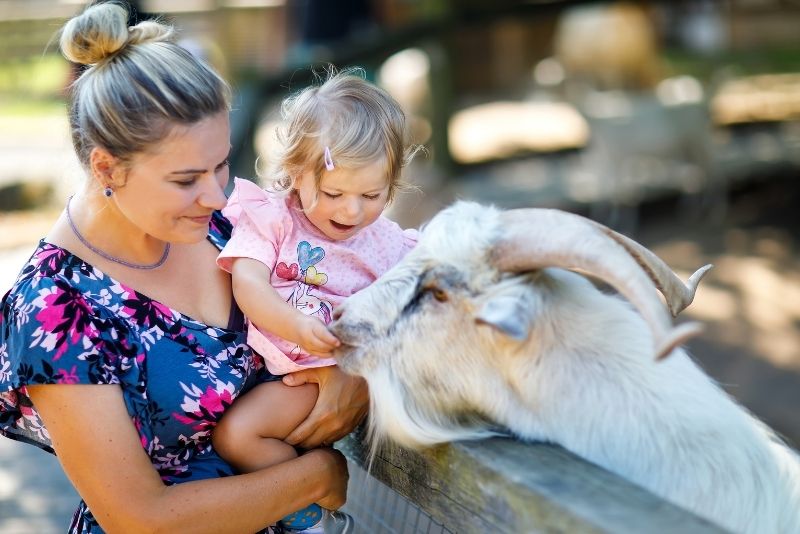 Le Centre de la Nature in Laval is a sprawling city park with a pool, a playground, tons of adorable wildlife, and activities for all four seasons.
On the park's premises, there's even a collection of tropical plants that form a small rainforest display.
It's the perfect spot to have a picnic and spend a day with the family.
70 – Go fishing or surfing at Parc des Rapides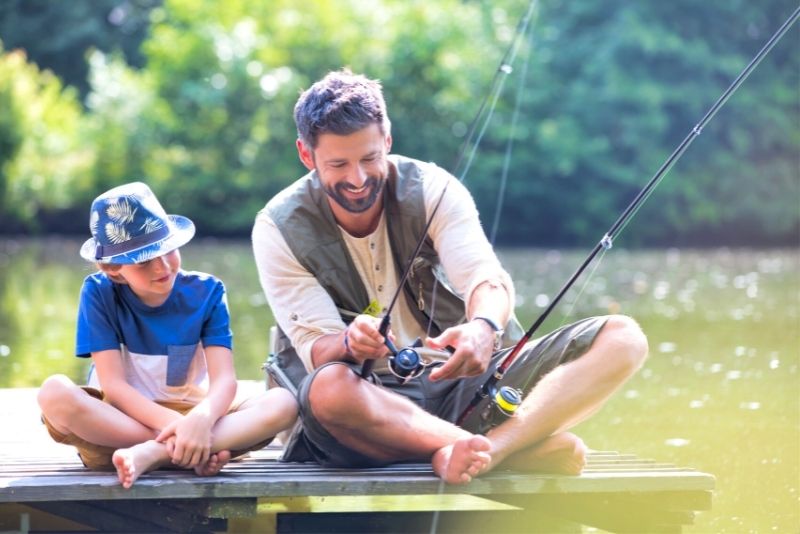 Parc Des Rapides gets its name because it's located right next to the rapids on the Lachine Canal.
It's a great spot to go fishing, and you can even go surfing if the water is angry enough. Like most parks in Montreal, it's also a great spot to spend an afternoon having a picnic.
Directions in Google Maps
71 – Climb to the rooftop restaurant at Place Ville Marie
Place Ville Marie is a gorgeous business campus situated right in the heart of downtown Montreal. Outside of its private offices, it houses a number of shops and restaurants, one of which happens to be on the roof.
Get a gorgeous view of the city from the observatory before you dine on exquisite cuisine at Les Enfrants Terribles, Montreal's most elevated restaurant.
72 – See why Mile End is one of Montreal's most multicultural neighborhoods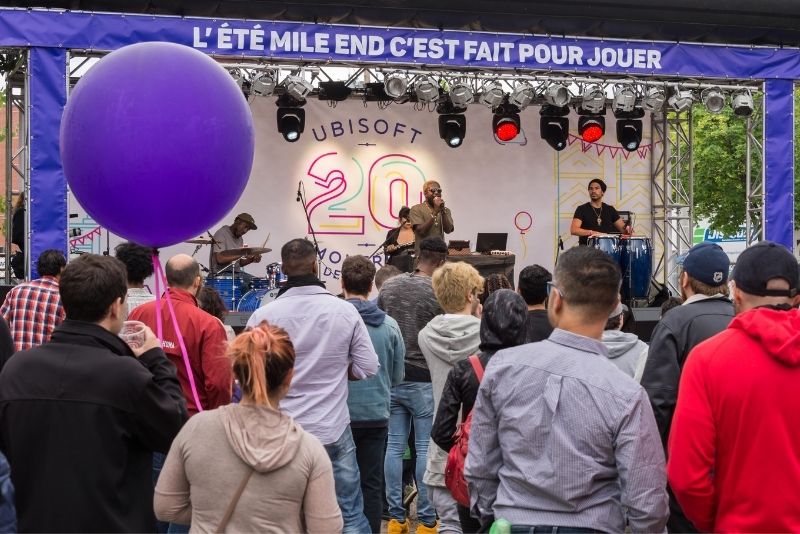 There are few neighborhoods that represent Montreal's cultural melting pot better than Mile End. Instead big box stores and chain restaurants, Mile End is filled with family owned businesses, eateries that serve food from all over the world, and some of the friendliest people you'll ever meet.
It's also filled with intimate live music venues – you're never too far from a show on any given night.
Directions in Google Maps
73 – Join in a calming tea ritual at the Japanese Garden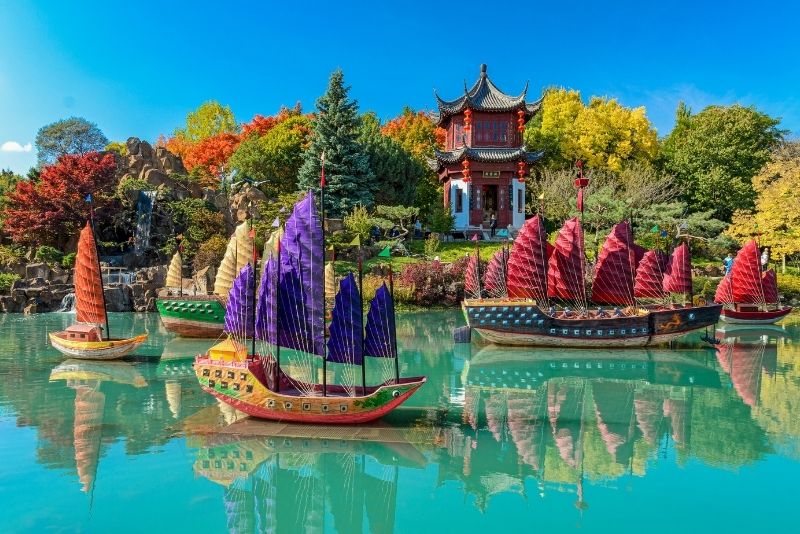 In the center of Montreal's Japanese Garden is a pavilion designed by famed architect Hisato Hiraoka. A walk through the pavilion reveals an impressive display of Japanese art and history, culminating in a calming tea drinking ritual.
The rest of the garden is just as beautiful, and it's part of the same natural museum complex that includes the Biodome, the Biosphere, and the Insectarium.
74 – Learn from Ph.D. students at the Redpath Museum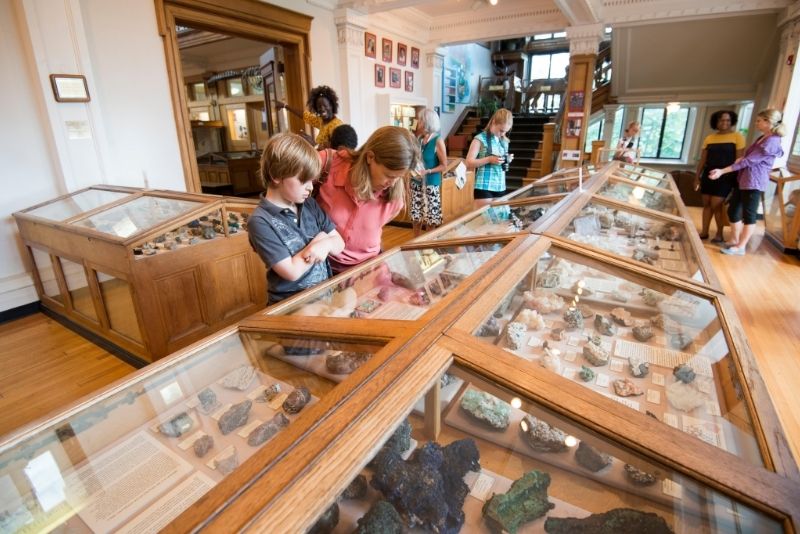 McGill University is well-known as being one of the best universities in North America, and the Redpath Museum on its campus is world class. Exhibits include pretty much everything you'd expect, from dinosaur fossils to ancient Egyptian mummies to the study of deep sea life.
If you're looking to learn everything you can about world history from top experts, this is one stop you won't want to skip.
75 – See the picturesque Lachine Canal National Historic Site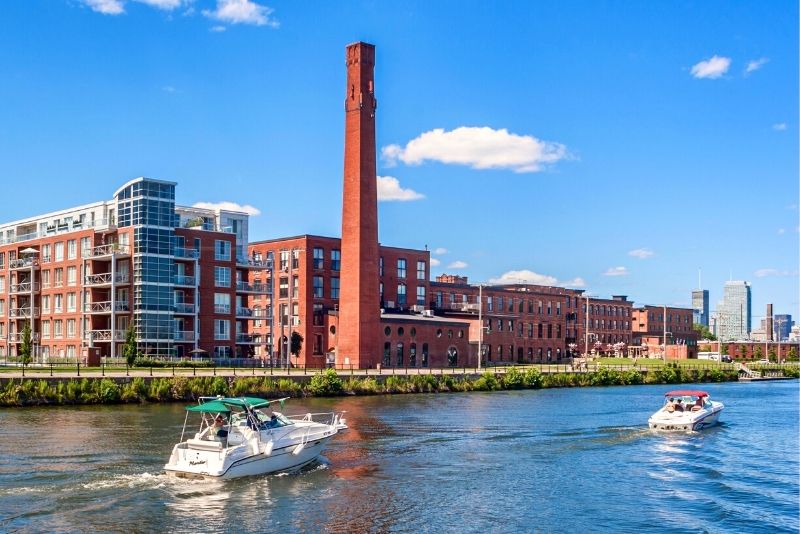 Aptly located in the neighborhood of Lachine, the Lachine Canal is a small but picturesque body of water that's surrounded by parks and other public areas.
It often plays host to festivals and community activities. It has a central biking and jogging path, the water is open in the summer for activities like swimming and boating.
Directions in Google Maps
76 – Learn about society's relationship with nature at the Biosphere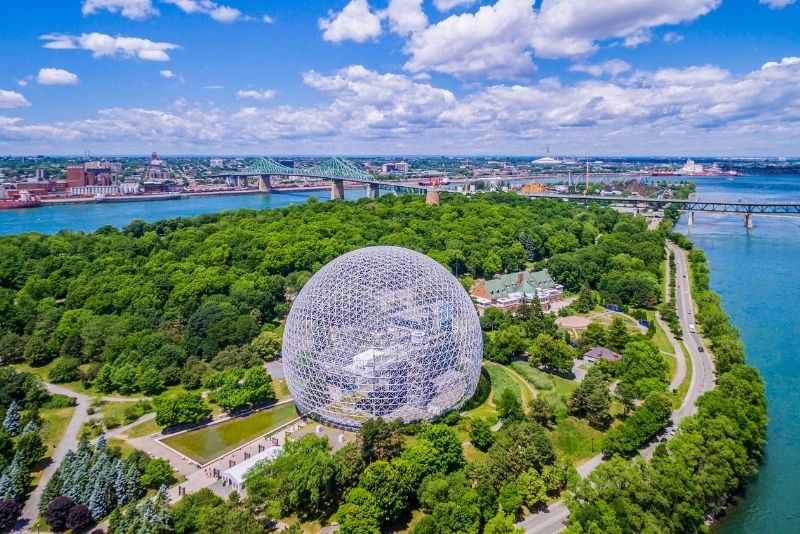 The Biosphere in Montreal has the uniquely specific mission of studying the relationship between society and the environment.
Built for Expo '67, the structure alone is worth the visit; it's a giant, open sphere created with interconnecting metal triangles.
While it's not huge, it does have quite a few regular science displays and art exhibits, and it lights up at night. Plus, it's right in the center of the massive Parc Jean-Drapeau, only a short walk from the metro station.
77 – Hear the world class Orchestre Symphonique de Montreal (OSM)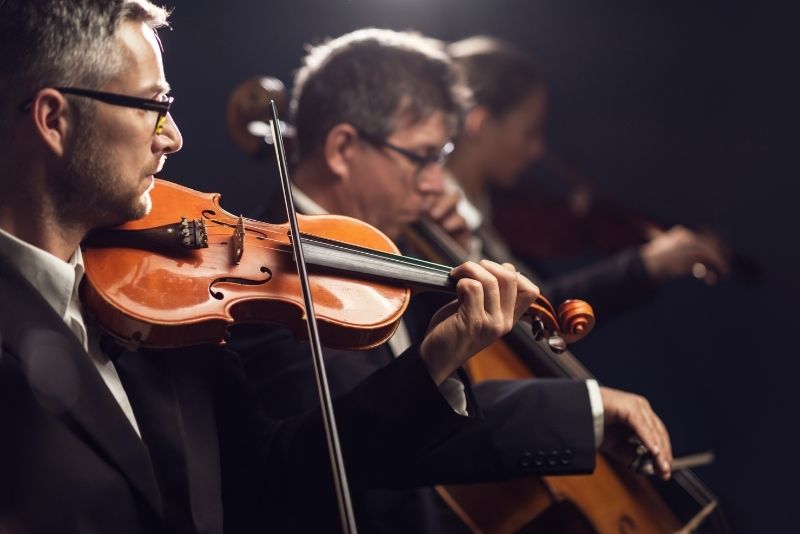 The OSM is Montreal's musical pride and joy. The 94 world-class musicians that make up the orchestra put on regular performances at the Montreal Symphony House at Place des Arts.
Their shows cover everything, from classical music to famous video games and movie soundtracks.
78 – See majestic indigenous animals at the Ecomuseum Zoo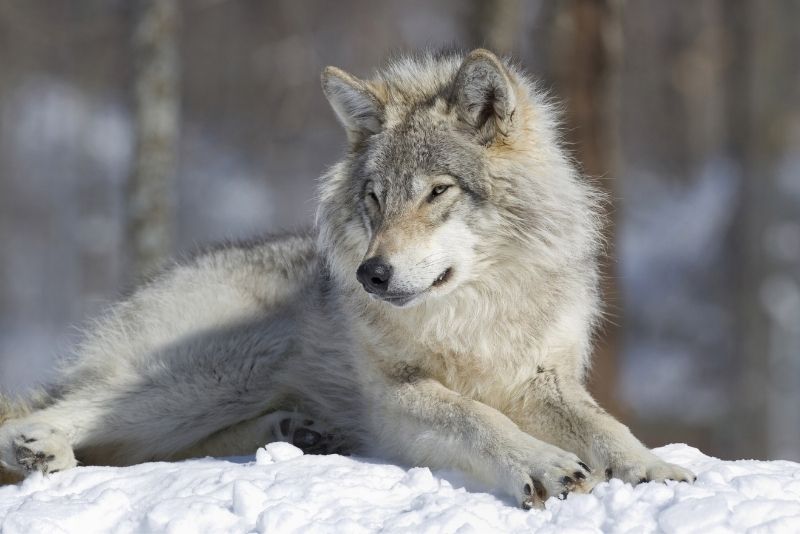 Located only a short distance from downtown Montreal, the Ecomuseum Zoo is dedicated to showcasing the local critters that call Quebec home.
See majestic animals like red foxes, snowy owls, river otters, and bald eagles. The animals are all treated with the highest ethical standards, and the zoo's staff even takes part in animal rescue missions.
79 – Cool off on a water slide at Super Aqua Club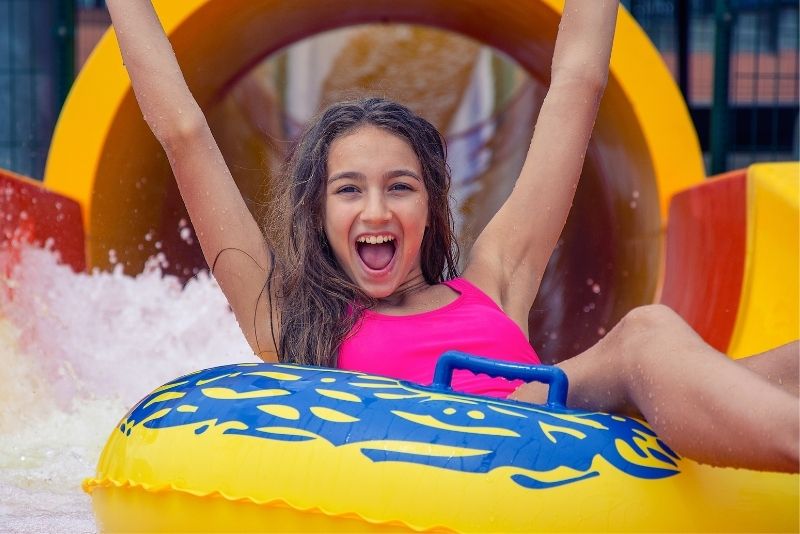 Super Aqua Club is one of Canada's best waterparks. You could spend an entire day there and still not get the chance to hit every attraction.
There's a wave pool, a lazy river, a giant pirate ship for the kids, and of course, exhilarating rides like twisters and the dropoffs. There are also all kinds of food kiosks and other shops on the premises.
80 – Stay at one of Mont-Tremblant's first-class ski resorts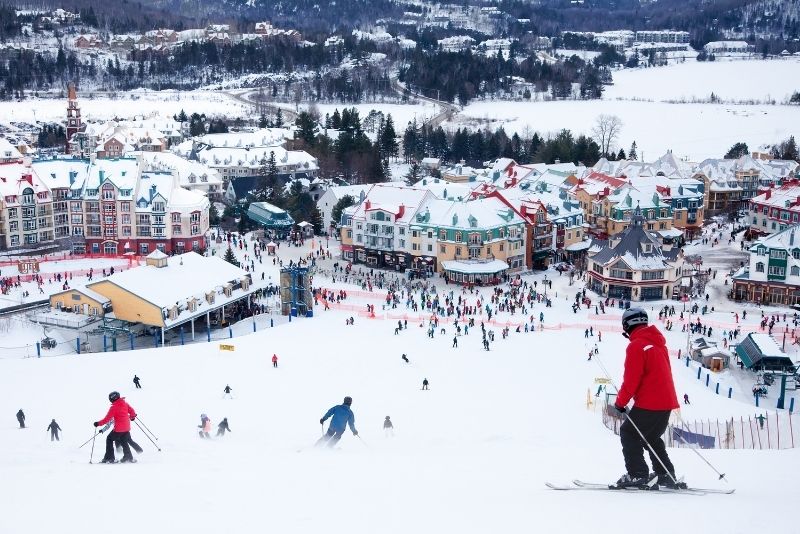 The city of Mont-Tremblant is only a short trip away from Montreal, and there are always shuttles going back and forth between them.
During the winter, Tremblant is the place to go for some of the best skiing and snowboarding Canada has to offer, and you'll find world class ski resorts here.
During the summer, the city becomes a hot spot for summer activities going down waterslides, kayaking, and there's even a pretty solid casino.
81 – Take cues from history at the Montreal Holocaust Museum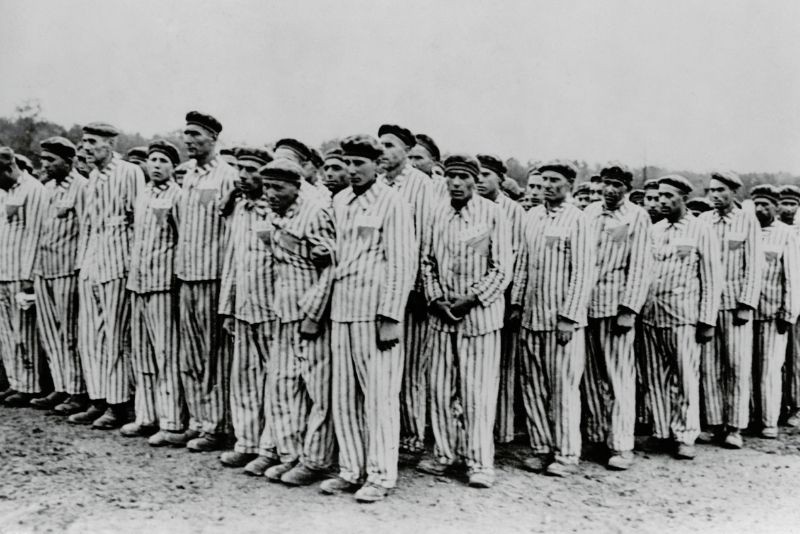 Montreal has a deep, rich, entrenched Jewish community that goes back for generations, so the holocaust is very personal to the people of this Canadian city.
The permanent exhibitions at Montreal Holocaust Museum are separated into three categories: life before the war, life during the Nazi regime, and the rebuilding of Jewish life after the Holocaust.
They also have a large collection of testimonials and authentic items from inside the camps.
82 – See the statues at Parc Jean-Drapeau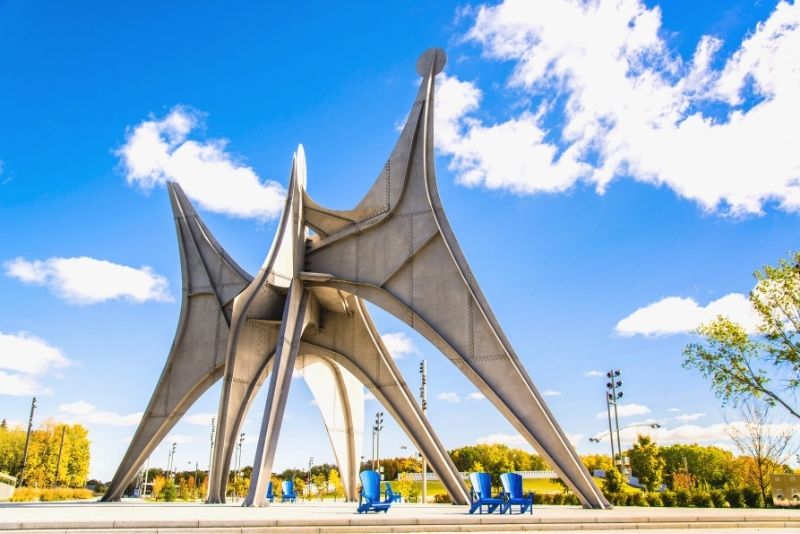 Parc Jean-Drapeau is actually two man-made islands that were created to host Expo '67. The gargantuan park features a man-made beach, a number of sports installations, historical sites, and a whole lot of gorgeous green space.
Every year, numerous festivals take place here, including the electronic music festival Picnik Electronic and the world famous Osheaga music and arts festival.
Parc Jean-Drapeau is also home to Montreal's Six Flags amusement park, La Ronde.
83 – See the beautiful art deco buildings at Place-d'Armes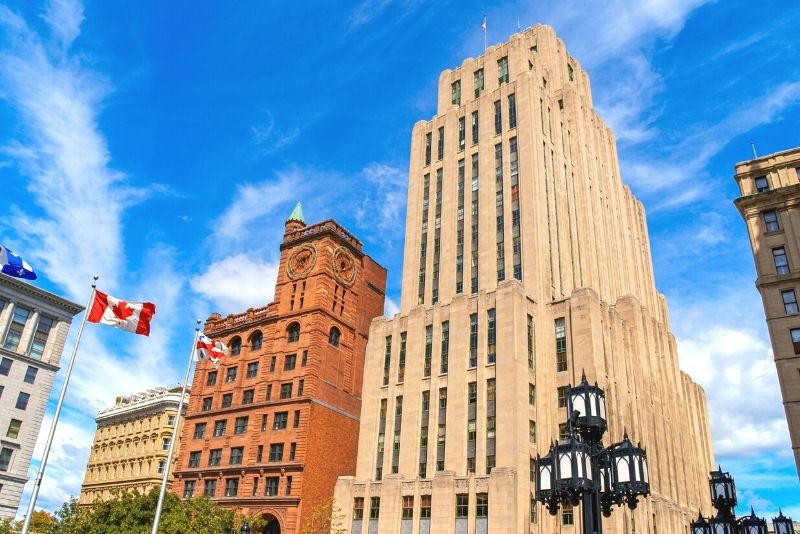 Right on the outskirts of Old Montreal, Place-d'Armes is a square full of historical statues and beautiful art deco buildings. You'll even be able to see the first location of the Bank of Montreal, Canada's oldest banking institution.
Place-d'Armes and the metro station underneath it are also right next to Chinatown, making it a perfect starting location day adventure as well as a meeting spot.
Directions in Google Maps
84 – Buy something delicious at Jean-Talon Market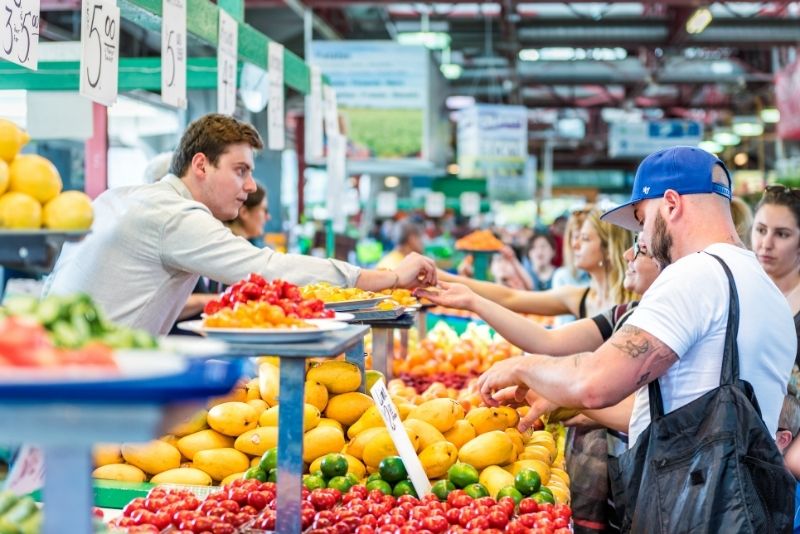 The Jean-Talon Market is just one more reason to pay a visit to Little Italy.
This local farmer's market has dozens of local vendors that sell honey, cheese, maple syrup, cured meats, and all kinds of other things.
If you're looking for something delicious, this is a good place to start.
85 – Find Montreal's best bars on a pub crawl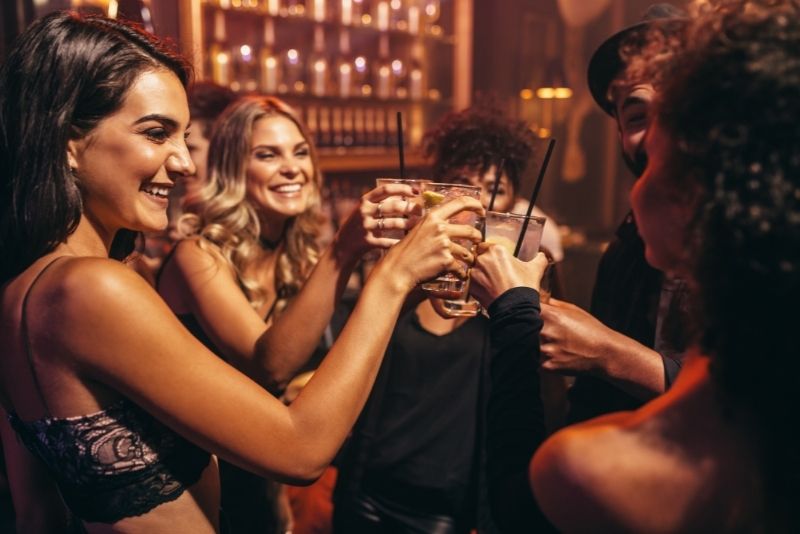 Montreal's nightlife is legendary, and many of the neighborhoods are absolutely full of bars and pubs. There's Bishop & Bagg in Mile End, La Distillerie and their famous mason jar cocktails, Bar Le Mal Necessaire and their tiki bar atmosphere, and so many more.
Thankfully, there are pub crawls all the time in Montreal, so you won't have to worry about hitting the best spots.
86 – Have breakfast at L'Avenue restaurant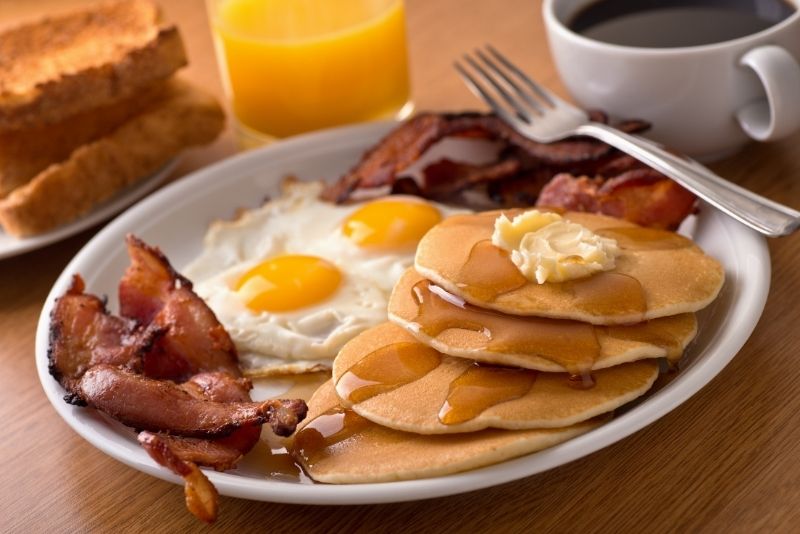 Montreal has all kinds of breakfast restaurants, but L'Avenue is probably the best. Their hearty, delicious breakfast menu is sure to fill you up and leave you smiling all day.
Come early or make a reservation though, because the restaurant's popularity makes waiting times almost a guarantee otherwise.
87 – Try a poutine at La Banquise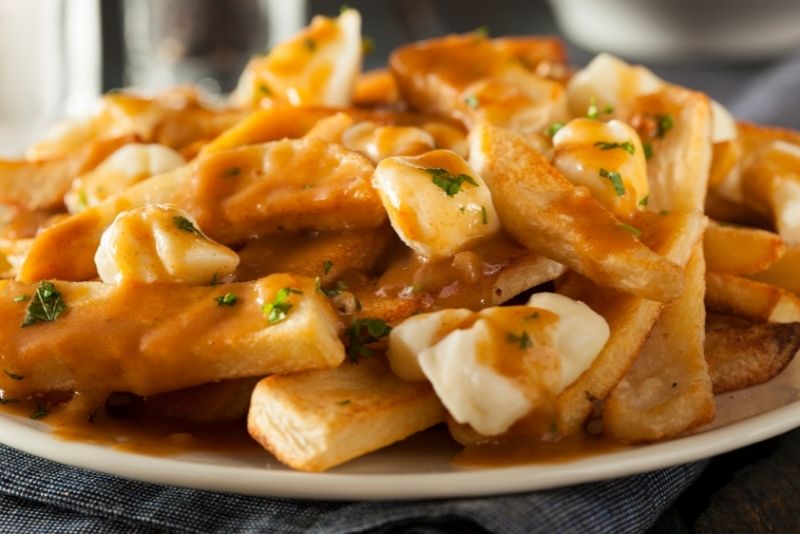 Quebec is famous for its poutine (a mix of fries and cheese curds melted over with gravy), and there are few places in the world that do poutine better than La Banquise.
They have the traditional version on their menu, of course, but for the truly adventurous, La Banquise offers options with ground beef, sausage, different combinations of vegetables, and even spaghetti sauce.
88 – See why Turbo Haus is one of Montreal's fastest up and coming bars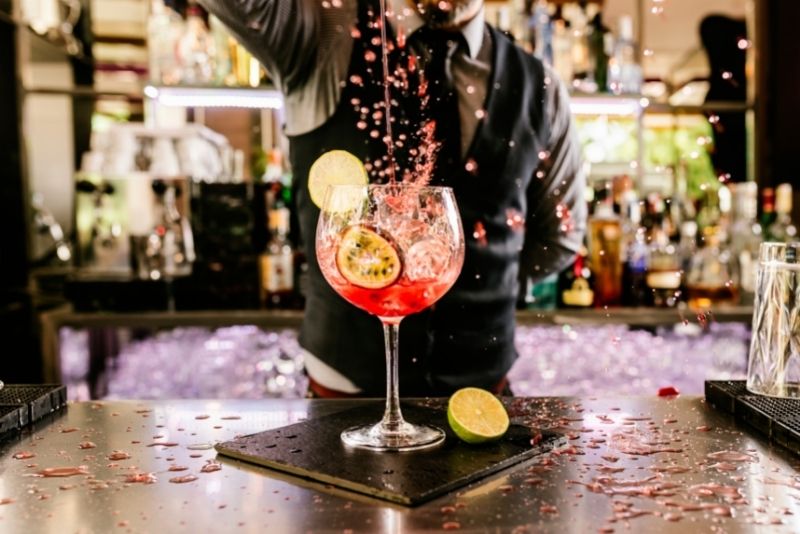 After changing locations a couple of times, Turbo Haus has become one of downtown Montreal's finest drinking locations. They have a number of signature cocktails, friendly staff, and a regular calendar of live music events.
Located on St. Denis near multiple public transportations options, this is a key consideration for a night out on the town.
89 – Taste the famous smoked meat at Schwartz's Deli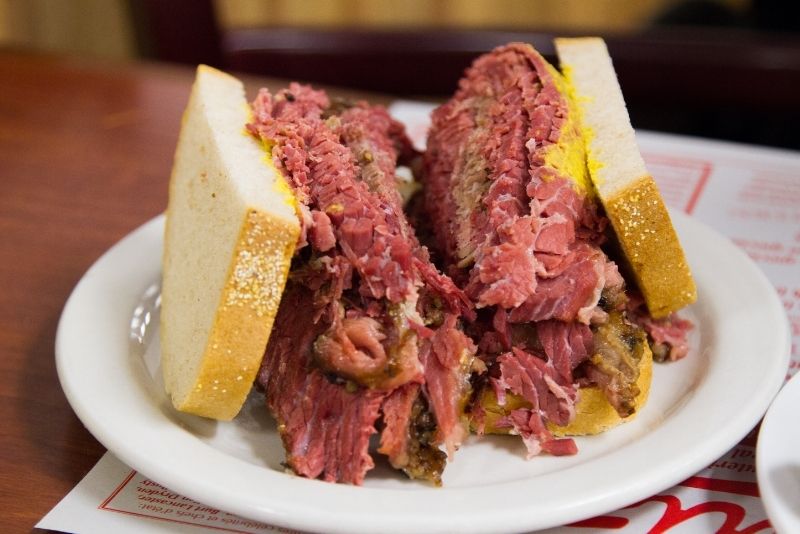 You haven't truly experienced Montreal unless you've stood in line to taste the world famous smoked meat at Schwartz's.
Established all the way back in 1928, Shcwartz's has been a staple of Saint Laurent Boulevard for almost 100 years.
A staple of Montreal's vibrant Jewish heritage, the huge sandwiches at Schwartz's are nothing short of legendary.
90 – Catch a show at Casa Del Popolo or one of the city's other live music venues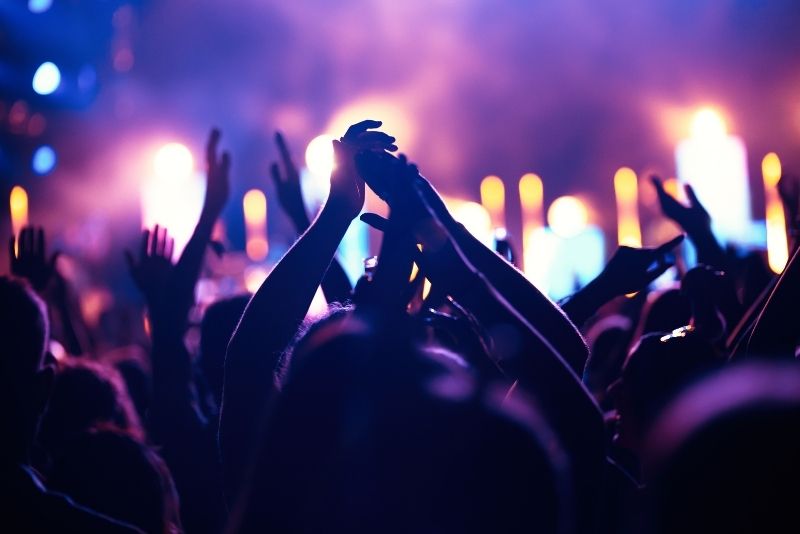 Montreal has an incredibly active local music scene and, in the downtown area, you can hardly walk two steps without hitting a live music venue.
From intimate clubs like La Sala Rossa and Casa Del Popolo (which doubles as a tasty vegan restaurant) to spectacular concert domes like The Olympia and the Corona Theater, the city's venues play host to rock, jazz, pop, classical, and everything in between.
We hope that you've enjoyed reading about the fun things to do in Montreal. If you're planning on visiting the Canadian city, there are plenty of convenient hotels and airport transfers options to choose from.
Where travel next? Consider traveling to some of Canadian' equally impressive nearby cities, including Quebec City, Ottawa, and Toronto.
Happy travels!